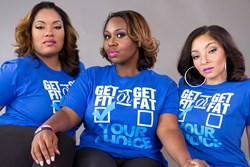 "They're so many misconceptions out there about being healthy, and believe me I was one of those people who thought that," she said. "The truth, however, is that if you approach it the right way you can make anything fun..."
Katy, TX (PRWEB) September 29, 2013
Friday Get Fit or Get Fat launched its fall fitness apparel line. The healthy living website added 12 new pieces to its workout collection as well as snapback hats in a variety of colors just in time for winter.
Get Fit or Get Fat CEO Iriel Franklin, who had a hand in designing all of her signature line – often coming up with the vision in her head then collaborating with an experienced designer to complete each piece – said the signature hoodies are her favorite new item.
"They just really sum up the whole mission of the brand," said the 29-year-old Katy businesswoman, adding that the unisex items were both fun, sexy and functional – while getting out the message that people have a choice when it comes to fitness: get fit, or get fat.
For Franklin the message is a very personal one. A head accountant for the Cameron Premier Truck service, the New Orleans native became morbidly obese following a string of tragedies that began when Hurricane Katrina forced her out of her home just months after she completed her degree at the University of New Orleans in 2005.
After spending a short stent in Atlanta, Georgia, Franklin returned to Houston to help her father Claude take care of her ailing grandmother Rosalie in 2007. A year later her grandmother passed away and her father had a stroke. It was too much for the now pregnant Franklin, and when her father died of heart failure in 2009 shortly after moving back to New Orleans the walls came tumbling down around her.
"I became an emotional eater and just ate away all the stress," she said "I had never been a small girl. I have always been overweight as long as I remember. I would work out and still be eating trash. Finally I just got tired of the never-ending cycle. I was tired of making excuses for myself."
So on August 1, 2012 after tipping the scale at 288 pounds Franklin, never one to consider weight loss surgery, made a pledge to herself to make a change. It was one she would keep.
"I had never been that heavy in my life. I started eating clean and working out," she said. "I've lost 85 pounds since then."
According to Franklin, one of the big reasons for her success was Get Fit or Get Fat. What's now a well-trafficked motivational and instructional health and fitness website supplemented by social media, began as Franklin sharing her journey with both friends and strangers through Instagram. As the pounds dropped off and her social network grew she realized that she had become as much an inspiration to her followers as those who were kind enough to leave nice comments on her latest progress pictures or share her newest healthy recipe.
"Probably one of the biggest catalysts for me is that there were people watching," she said. "Letting yourself down is one thing, but letting down a community of people who cheer every bit of your progress and feel each setback as much as you would be heartbreaking."
That's when she began to build out her site and adding a line of fun fitness-wear to the mix seemed like a natural progression to Franklin who said the purpose of her gear is to motivate and smash the stereotype that losing weight and being fit was only burdensome and boring.
"They're so many misconceptions out there about being healthy, and believe me I was one of those people who thought that," she said. "The truth, however, is that if you approach it the right way you can make anything fun. That's what the Get Fit or Get Fat line is all about, making good choices and looking good doing it."