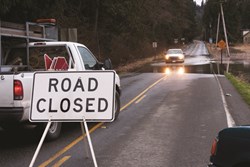 Arvada, CO (PRWEB) September 29, 2013
Stonehouse Signs, a Colorado-based company that manufactures customizable visual communication products for safety and accident prevention, was able to quickly meet the needs of workers helping to rebuild after the state's recent, historic flooding. An out-of-state company repairing damaged railroads urgently needed customized, reflective safety signs for its project. Stonehouse was able to respond quickly, delivering the signs in 24 hours. The company's products are often used for industrial applications and traffic control in a wide range of industries, including telecommunications, oil and gas, medical, and skiing.
Stonehouse's normal turn-around time of three to five days for custom orders is already very fast by industry standards, but the company is responding to all flood-related orders as quickly as possible, shortening delivery times even more. "Stonehouse Signs is happy to have the opportunity help out the flood recovery effort," says Jeff Stone, current co-owner of Stonehouse Signs. "We are Coloradans, too. Our company has operated in Colorado for the past 103 years of our 150-year history."
###
Since its founding in 1863, Stonehouse Signs has produced high-quality visual communications solutions for industry and government. The company specializes in customizable products for safety and accident prevention and manufactures a full line of safety signs, facility signs, lockout tags and decals designed for extended outdoor life, harsh environments and demanding applications. For more information call 1-800-533-9914 or visit our website: stonehousesigns.com.