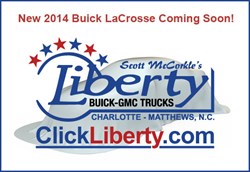 The 2014 Buick LaCrosse is a crowd pleaser! - Scott McCorkle
Charlotte, NC (PRWEB) September 28, 2013
The first new 2014 Buick LaCrosse in Charlotte, NC will arrive on the lot of Liberty Buick GMC next week. The much awaited vehicle is being loaded on a truck and shipped out over the weekend. Youthful, flowing lines of the Buick's 2014 LaCrosse have made it one of the nation's top picks and have created an early demand for the brands best-selling model. Liberty Buick GMC sales reps are excited to get the highly anticipated LaCrosse on the showroom floors.
"Buick's hit another home run with the 2014 LaCrosse," says Scott McCorkle, owner of Liberty Buick GMC in Matthews and Charlotte. "It offers great value in both performance and in style." With the new exterior and interior upgrades, this new premium sedan is now being compared to cars in the luxury category.
The new 2014 Lacrosse is brimming with exterior design upgrades as well as some pretty serious improvements to comfort and ease of use in the interior functions. Both the front and rear appearance has changed with a fresh new fascia including a sculpted hood, with the signature hood vents moved to the sides; new jewel-like, winged-shaped LED headlamps and fog lamps; an even larger waterfall grille with black accents and active shutters that close for better fuel economy; and a new deck lid with an integrated spoiler.
Under the hood, the 2014 LaCrosse offers up a 4 (hybrid) and 6 cylinder engine, with front wheel drive and all-wheel drive options; a 182-hp, 2.4-liter direct-injected Ecotec engine and a 304 HP, direct injected 3.6 liter engine; variable size wheel options; and a HiPer-strut suspension in the premium model.
This Buick model is known for its exceptionally quiet interior. New on the interior is the dual 8" displays making up the gauge cluster; a redesigned center stack with more storage; and a cleaner instrument panel with less buttons and more function. Standard on this model is the next generation Buick IntelliLink Infotainment System that allows users to customize the touchscreen with personal apps.
Buick has also added more active and passive safety technologies giving the driver either a dashboard visual, audible or vibration alert. These include a Forward Collision Alert, a Lane Departure Warning, a Lane Change Alert, a Side Blind Zone Alert and a Rear Cross Traffic Alert.
"I always invite people to come test drive our cars but that starts to sound like car-sales-jargon so I don't know how seriously people take my invitation. But this car really is worth your time. If you haven't been in a Buick in 20 years, you just have to experience these new cars. They are incredible!" says McCorkle. "This new sedan is becoming a fast crowd pleaser," he added.
The countdown for the new Buick LaCrosse starts this weekend at Liberty (9028 East Independence Blvd in Matthews). If you want to know the exact moment it arrives go to http://www.clickliberty.com/LibertyNews for updates.