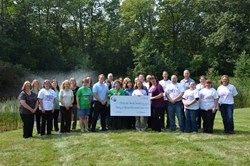 Germantown, WI (PRWEB) September 27, 2013
This past June, a team of 20 from Ellsworth Adhesives, an adhesive products distributor based in Germantown, WI, participated in the annual American Cancer Society's Relay for Life fundraising event held to raise money and awareness for cancer patients and research. This year, Brown Deer High School hosted the Milwaukee-Brown Deer overnight walking event on June 21, 2013. The Ellsworth Adhesives team raised $26,357.00, which placed the team first in Wisconsin and fifth in the nation for Relay for Life fundraising.
Darlene De Rocher, Ellsworth Adhesives Relay for Life team chairperson, stated, "This was our sixth year participating in Relay for Life. We love to help those in need of cancer treatment and care and hope to beat this amount next time." The Ellsworth Adhesives Team started their fundraising efforts six months before the event. This included candy and food sales, raffles, auctions, as well as team donations. "We are so thankful to all of our friends, family and fellow employees who contributed to our efforts this year," De Rocher commented.
On Monday, September 9, Ellsworth Adhesives along with Glue Dots International, a subsidiary company of Ellsworth Adhesives that also participated in Relay for Life and raised $10,070.00 bringing the fundraising total to $36,427.00, held a luncheon and check presentation to representatives for the American Cancer Society and Relay for Life Michelle Kreuser and Adam Martin. Funds raised by Ellsworth Adhesives and Glue Dots International will stay in Wisconsin and go towards cancer research, support groups, Hope lodges and transport programs for appointments.
For more information on Ellsworth Adhesives, visit http://www.ellsworth.com or call 1.800.888.0698.
For more information on Relay for Life, visit http://www.relayforlife.org.
About Ellsworth Adhesives
Ellsworth Adhesives is a distributor of adhesive products and equipment. Ellsworth Adhesives is a value added supplier of adhesives, sealants, coatings, encapsulants, tapes, releases and lubricants from leading international manufacturers including 3M, Bostik, Dow Corning, Dymax, Emerson & Cuming, Fisnar, Loctite, Lord, Permabond, Techcon and many others and offers the most comprehensive level of technical expertise available. Ellsworth Adhesives operates sales offices and warehouses in the United States, Canada, Mexico, Europe, Brazil, China, Hong Kong, Australia and Malaysia. Ellsworth Adhesives can be contacted directly at 1-800-888-0698 or by visiting http://www.ellsworth.com.