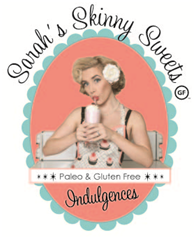 Gluten Free Indulgences
Los Angeles, CA (PRWEB) September 27, 2013
On October 1st Sarah's Skinny Sweets will be given out to 800 of the nominees and attendees the 34th Annual News and Documentary Emmys in the Official Emmy Gift Bag.
Off the Wall Productions, the official Emmy Gift Bag Sponsor plucked Sarah's Skinny Sweets out of obscurity and into the limelight to be one of 30 sponsors included in the coveted Emmy Gift Bag.
Sarah's Skinny Sweets was founded in 2010 by owner Sarah Collette. Sarah created and branded her cookies with her own image and style on the bag and selected the cleanest and healthiest ingredients to make her cookie her own. After being in the health food industry since she was 16 she saw the gap in the market and filled it with a cookie like no other. Sarah's Skinny Sweets are Gluten Free, Low Carb, Diabetic Friendly, Paleo Diet Friendly, delicious and are branded with Sarah's personal retro style.