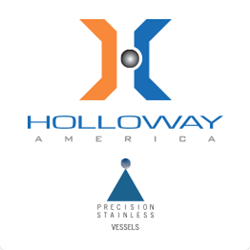 Our field fabrication services let clients spend less time waiting on equipment updates and more time developing potentially life-saving breakthroughs for the healthcare industry.
Springfield, MO (PRWEB) September 30, 2013
HOLLOWAY AMERICA announced recently it will exhibit at the Boston Product Show 2013. Hosted by the Boston Area Chapter of ISPE, the 22nd Annual Product Show will be held this Wednesday, October 2 at Gillette Stadium Clubhouse in Foxborough, Mass. from 10:30 a.m. to 5:30 p.m. with an After-Show Networking Reception scheduled from 7:30 to 9:30 p.m. Throughout the show, HOLLOWAY AMERICA Director of Marketing Randy Colwell and other representatives will be available to field questions about the company's pressure vessel products and fabrication capabilities.
A welcomed staple at many ISPE (International Society for Pharmaceutical Engineering) events, including the annual Boston Product Show, this year HOLLOWAY will exhibit at Table 174 on the west side of the stadium. Asked what attendees can anticipate from HOLLOWAY, Colwell answered, "We're looking forward to discussing some of our most popular custom stainless steel fabrication products, many of which are commonly used and trusted in the pharmaceutical and biopharmaceutical processing industries. I'm particularly excited to demonstrate the obvious advantage our Seal Break Pliers provide processing professionals who need to separate vacuum-sealed gaskets from process connections on pressure vessels, without risking process contamination from using any old screw driver."
As Colwell alluded to, people often use a carbon steel screwdriver to break a bonded process connection. This can damage the pressure vessel and cause carbon steel contamination, which is dangerous and often costly in pharmaceutical and biopharmaceutical processing. Colwell also mentioned other innovative tank components he will discuss at the show, including the FASTMOUNT™, the only ASME code-certified mounting flange and low-profile retainer system in the industry. "The FASTMOUNT™ is engineered for fast, clamp-and-go connections and permanent installation," Colwell stated, "so it allows quicker coupling for TriClamp®-type piping or instruments."
In addition to HOLLOWAY's pressure vessels and parts, the company's representatives will discuss their YOURSITE™ field fabrication and on-site machining, repair, retrofitting, modification and replacement services. "By sending our craftsmen to perform fabrication, repairs and preventive maintenance on location," said Colwell, "HOLLOWAY can ensure our clients endure far less down time with equipment that needs attention and more time developing potentially life-saving breakthroughs for the healthcare industry."
The largest single-day gathering of biotechnology and pharmaceutical professionals in the Northeast, as stated on the website for the Boston Area Chapter of ISPE, the Boston Product Show 2013 will also feature new technology and products from over 350 other exhibitors. More than 2,100 biopharmaceutical professionals are expected to attend the event. The show will include seven important educational sessions and a keynote address by Massachusetts Biotechnology Council President and CEO Robert K. Coughlin, who will address the current state and future of the industry.
For more information on custom stainless steel fabrication services, pressure vessels and tank components, or for further details on the Boston Product Show 2013, contact HOLLOWAY AMERICA at 417.863.0077 or by email at info(at)HollowayAmerica(dot)com.