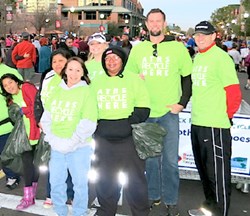 By dropping your running gear into the Start Line carts, you're keeping textiles out of our city landfills, helping a local charity and doing something great for the planet. It's win win win! -- Nathan Jones, Market Manager for ATRS Nashville
Nashville, TN (PRWEB) September 28, 2013
Participants in the Rock 'n Roll Womens Half Marathon in Nashville TN now have one more environmentally friendly reason to take to the streets on Saturday September 28, 2013.
Race participants are encouraged to bring a bag of running gear and shoes to the start line at Walk of Fame Park in downtown Nashville for recycling. Brightly colored ROCK, RUN, RECYCLE carts will be stationed at the runners' corals to collect dropped warm up gear. Distinctive ATRS truck will pick up unused event tees, medals, water and snacks at the Finish. Perishables will be given to shelters and textiles will be recycled with the proceeds to benefit the Nashville chapter of Mothers Against Drunk Driving (MADD).
Nashville residents can recycle unwanted clothes, shoes, toys and household textiles all year round simply by calling the 24-Hour Hotline with your address or zip code at 1-866-900-9308.
"We'd like to challenge race participants, their friends and family to join the race to rock, run and recycle in Nashville this weekend," says Nathan Jones, Market Manager for ATRS Nashville. "By dropping your running gear into the Start Line carts, you're keeping textiles out of our city landfills, helping a local charity and doing something great for the planet. It's win win win!"
American Textile Recycling Service (ATRS) is the nation's fastest growing textile recycler and an official recycling partner of Rock 'n Roll Marathon. Its socially responsible business model provides free textile recycling solutions for the public, job stimulation worldwide and much-needed funding for worthy local charities. Easy, convenient ATRS Recyclers are available throughout Nashville, Texas, Florida, Michigan, Tennessee, Atlanta, Oklahoma, Arizona, Colorado, and Southern California. ATRS is committed to keeping textile waste from local landfills and promoting a greener tomorrow. For press inquires, contact pr(at)atrsonline(dot)com.