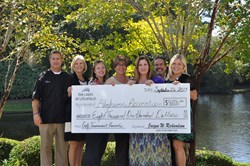 It is a class act tournament that keeps on getting better every year!
Pawleys Island, SC (PRWEB) September 29, 2013
The Lakes at Litchfield, Pawleys Island's premier retirement community, raised over $8,000 for the Grand Strand Chapter of the Alzheimer's Association at their 2nd Annual Endless Summer Golf Tournament.
The tournament was held at the Indigo Creek Golf Club, located in Murrells Inlet, S.C. "We had an overwhelming community response," says Lifestyle Advisor Nancie Leeton. Over 20 teams of four players came out in support. Numerous local businesses sponsored holes and donated raffle prizes for the event. Tidelands Ford Lincoln even offered a brand new Ford Escape to any player who could win the Hole in One Challenge.
Golfer Chris Williams of North Myrtle Beach remarked, "It is a class act tournament that keeps on getting better every year!"
Dead Dog Saloon, located in Murrell's Inlet, hosted the 19th Hole After-Party where the award and raffle winners were announced.
The Alzheimer's Association's Area Program Director Natalie Bankowski graciously accepted the check, "We look forward to the tournament and appreciate the support from The Lakes at Litchfield. The funds from the tournament provide free consultations, respite care, educational support for local families and all materials and literature needed to educate the public on the disease."
The Lakes at Litchfield will continue to support the local chapter by sponsoring a team for Walk to End Alzheimer's on Saturday October 26th at Market Common.
The Alzheimer's Association Grand Strand Chapter office is located in Myrtle Beach and serves the surrounding area. For more information and other events and educational programs, contact Bankowski at 800-272-3900.
The Lakes at Litchfield thanks everyone who participated and donated, and looks forward to hosting the tournament again next year.
About The Lakes at Litchfield
The Lakes at Litchfield is an all-inclusive, continuing care retirement community (CCRC) on Pawleys Island, S.C. The community's care-free lifestyle helps members live longer, healthier and happier lives by offering an array of amenities including maintenance-free living, daily fine dining, weekly housekeeping, a nationally recognized wellness program and continuing-care health services. Members can choose from a variety of floor plans including single-family cottage homes and condominium-style villas. Assisted-living, memory-care and skilled-nursing rooms are also available for those who need to make a transition from independent living. More information about The Lakes at Litchfield is located at http://www.Lakes-Litchfield.com.