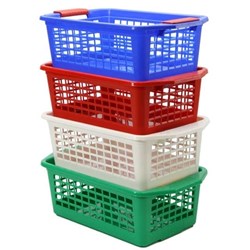 We count on our customers to let us know what they're looking for and we try very hard to adjust our offerings to meet demands."
Urbana, IA (PRWEB) September 30, 2013
E-commerce retailer JustPlasticBoxes.com, has added several new stackable plastic storage baskets to its selection of organizational containers on its website. The line expansion includes popular vendors Rubbermaid, IRIS, and Dial, and is a result of customer requests for stackable baskets for use in businesses and classrooms.
The Flip-N-Stack plastic mesh storage baskets from Dial are particularly popular because their unique design has flip out handles to make them stackable, and retracts so they can be nested when not in use.
Product specialist Brandi Bowers says the idea to add more colors, sizes, and bulk quantity options came after pharmacists and medical clinic personnel began contacting the company to purchase the baskets for organizing medications.
"The pharmacy baskets have turned out to be one of our top sellers due to the fact that they are available in a set of four different colors," said Bowers. "While they're already sold in bulk quantities of 12 or 24 to make them a great value, the price decreases even more if multiple packs are purchased."
The baskets have also been popular with teachers since the space-saving design allows them to be easily stored when not in use over summer break.
Charts with additional cost savings based on quantity purchased are posted clearly on each product page. Shipping is free on all orders which also add to the savings. While all of the items on the website are packaged and sold in multiple quantity sets, single quantities are always available by calling the sales team at 800-736-0651. The company's central Midwest location means that shipping timeframes are just one to four days throughout the continental United States. Orders placed by 4pm CST are shipped the same day.
The company was launched just 12 months ago, but has posted a consistent increase in revenue each quarter. According to Bowers, many of the products sold on the website are offered as a result of customer requests, and it's a trend she doesn't see changing anytime soon.
"We're really a one-of-a-kind retailer in that we sell only plastic boxes in bulk quantities, so we've taken a very flexible approach in our offerings," said Bowers. "We count on our customers to let us know what they're looking for and we try very hard to adjust our offerings to meet demands."
Next up for the company is an expansion of their Christmas storage boxes, with the expected addition of several new products by early November.
###
About JustPlasticBoxes.com
JustPlasticBoxes is owned by Clickstop, Inc., an online retailer of niche brands in several different categories. Websites under the Clickstop company umbrella also include SpaceSavers.com, BellyBling.net, and EcoFoil.com. With strong vendor relationships from Clickstop's large e-commerce presence, JustPlasticBoxes is proud to offer high quality brand name plastic storage boxes at value prices with free delivery.