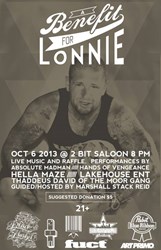 Lonnie is the epitome of a good friend. He would literally give you the shirt off his back, even if it left him out cold in the rain.
Seattle, WA (PRWEB) September 29, 2013
Lonnie's Recovery From Gun Violence
The Mighty Lonnie Benefit is raising money to aid in the recovery and rehabilitation of an ex-pro skateboarder, Lonnie, from Seattle, who was shot five times during a robbery on September 16th. The Mighty Lonnie spent his youth at Westlake Park in Downtown Seattle mastering his skateboarding craft. On September 16th Lonnie was helping a disabled veteran move into his new work space at the Old Rainier Brewery building. While Lonnie was carrying boxes thru a hallway, he was randomly attacked by unknown assailants who robbed him and attempted to kill him. Lonnie was shot 5 times with a .45 caliber handgun and left for dead. Lonnie was shot once in each leg, his stomach, his chest and forearm. The fact that Lonnie is a pure miracle. Amazingly, Lonnie survived the attack as if he were Superman and Batman combined.
Lonnie does not have health insurance and has suffered some catastrophic injuries that will require months of rehab and return hospital visits. The Mighty Lonnie fundraiser is hoping to raise enough money to assist Lonnie with rent, food and hospital bills. The fact that Lonnie survived this random attack shows that God wanted him here for a bigger purpose. Lonnie has ALWAYS been a staunch anti-gun and anti-violence advocate and needs help so that he can resume his hard work towards a more peaceful world.
The Mighty Lonnie Fundraiser Wants to Raise $100,000
The average cost of recovering from a gunshot wound is ridiculously expensive. Lonnie's doctors estimate that it could be well over to $540,000.
http://abclocal.go.com/wls/story?section=news/local&id=9128779
Lonnie Would Do This for You
Lonnie is the epitome of a good friend. He would literally give you the shirt off his back, even if it left him out cold in the rain. We are hoping that with your contribution, Lonnie will be able to recover without stressing about his financial situation. Life has never been easy for Lonnie and he has worked hard for everything he has ever gotten. He will not be able to return to his construction job as it requires him to be in top physical condition. He is currently still in Harborview Hospital in critical condition. The wounds he suffered are catastrophic and are going to forever change how he lives.
The benefit will be held on October 6th at the 2 Bit Saloon at 8 PM and will feature performances by "Absolute Madman," Lakehouse ENT, Thaddeus David of the Moor Gang, and will be hosted by Marshall Stack Reid.