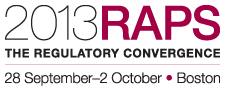 Advancing a profession like ours requires the breadth and depth of leadership RAPS Fellows provide.
Boston (PRWEB) September 30, 2013
The Regulatory Affairs Professionals Society (RAPS) today honored its 2013 class of RAPS Fellows during the opening session of 2013 RAPS: The Regulatory Convergence, the signature annual event for the healthcare product regulatory profession, which is taking place through 2 October at the Hynes Convention Center in Boston. The RAPS Fellows program recognizes senior regulatory professionals for their continued significant contributions and leadership in the advancement of the profession and the professional.
"Advancing a profession like ours requires the breadth and depth of leadership RAPS Fellows provide," said Paul Books, RAPS chairman and also vice president and country manager of BSI Product Services in Washington, DC. These individuals have excelled in their careers and continually demonstrated their dedication to our profession."
The 2013 RAPS Fellows are:
Thomas Hutchinson, RAC, FRAPS, vice president, regulatory affairs, Davol Inc.
Yvonne Middlefell, RAC, FRAPS, director, global regulatory affairs
Diana Salditt, FRAPS, distinguished regulatory affairs advisor, Medtronic Inc.
Denise McEachern, EJD, RAC, FRAPS, vice president, global regulatory affairs, Bausch & Lomb
David Mullis, Jr., PhD, RAC, FRAPS, president, Mullis & Associates Inc.
Fellows receive a dignified status and hold the FRAPS designation. They also serve as important resources for strategic dialogue, implementation of special initiatives and international development. Fellows represent all segments of the RAPS community, including industry, government, academia, research and clinical organizations. This is the sixth year of the RAPS Fellows program.
More information about the 2013 RAPS conference and a complete listing of all conference sessions and events are available at http://www.RAPS.org/2013. The Twitter hashtag for the conference is #2013RAPS.
Members of the working media who wish to cover all or part of 2013 RAPS should contact Zachary Brousseau, senior manager, communications for RAPS, or register on site with valid press credentials or a letter from an assigning editor on company letterhead.
About RAPS
The Regulatory Affairs Professionals Society (RAPS) is the largest global organization of and for those involved with the regulation of healthcare and related products, including medical devices, pharmaceuticals, biologics and nutritional products. Founded in 1976, RAPS helped establish the regulatory profession and continues to actively support the professional and lead the profession as a neutral, non-lobbying nonprofit organization. RAPS offers education and training, professional standards, publications, research, knowledge sharing, networking, career development opportunities and other valuable resources, including Regulatory Affairs Certification (RAC), the only post-academic professional credential to recognize regulatory excellence. RAPS is headquartered in suburban Washington, DC, with offices in Europe and Asia, and chapters and affiliates worldwide. RAPS.org
###