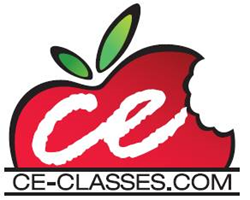 Ce-classes.com's new website make continuing education is easy.
Fort Lauderdale, FL (PRWEB) September 30, 2013
CE-Classes.com has modified its website so health care professionals can navigate effortlessly to achieve their continuing education credits. "We are thrilled with our new look and style. The update has simplified the process to take courses and makes our website simple to use. All someone has to do is log in or register, read the course material and pass the test to obtain their certificates," says Ron Black, company president. "It's that easy." Visitors to the website have commented that, "This is so easy to use," and "The website is stunning."
This South Florida-based company offers over 250 Continuing Education CE courses that are especially designed to meet the needs of its licensed professionals as well as the state relicensing requirements. The company has also developed comprehensive training and supervision programs in various disciplines such as clinical social workers, professional counselors, psychologists, nurses, school psychologists, addiction professionals, CAPs, marriage and family therapists and other health care professionals. Courses can be found on a variety of subjects, including ethics, laws and rules, substance abuse, ADHD, and domestic violence. The CE courses are utilized by professionals in the United States, Canada and worldwide.
The CE courses offered are not only ideal for licensed healthcare professionals. Ce-Classes.com can also help companies and agencies meet their accreditation and state licensing criteria by providing their employees with the training required. Administrators can monitor employee compliance with mandatory training with a few clicks of the mouse. Specialized courses can be based on the policies and procedures of their company. Through these courses and trainings, employees can undergo complete training that will improve their job-specific competencies. Moreover, the company has also developed a resource that can help agencies track staff development thereby ensuring compliance for their upcoming audits.
About CE-Classes.com
CE-Classes.com is committed to helping individuals earn CE credits in the most efficient, easiest, and most cost-effective way possible. For over 15 years, the company has provided online CE courses, live seminars and webinars that are approved for various health care professionals for continuing education credits by a number of state and national boards. CE-Classes.com serves a wide range of licensed professionals such as mental health counselors, therapists, psychologists, nurses, and social workers. Individuals are given the option to choose between purchasing one or two courses or saving money by choosing the Unlimited Online Courses Package for a year.
The company possesses multiple accreditations such as American Psychological Association (APA), Association of Social Work Boards (ASWB), National Board of Certified Counselors (NBCC), and National Association of Alcoholism and Drug Abuse Counselors (NADACC). The courses offered by CE-Classes.com are accepted nationwide.