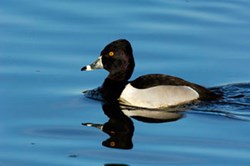 Raleigh, North Carolina (PRWEB) September 30, 2013
Naturalist Journeys announces a new birding eco-tour to North Carolina, where water and sand frame a winter birding trip to the seasonally wild and lonely reaches of the Outer Banks. Large concentrations of waterfowl and shorebirds gather here, creating a wildlife spectacle. Guide Doug Pratt, a well-known wildlife artist as well as professional ornithologist, describes it well, saying, "In contrast to summer, when bird watching in winter one gets that wilderness feeling, and even with a group, one can get lost in the solitude. I absolutely love the challenge of seeking out rarities, those migrants that went astray and simply have to hunker down for the winter."
Naturalist Journeys' owner Peg Abbott says the company reviewed Doug's itinerary and immediately recognized its potential. Winter can bring silence to many forest habitats while in coastal locations activity abounds. She says, "Birders pick up energy from the numbers, finding seabirds, shorebirds, waders, loons, cormorants, egrets, scoters – so many species! This birding tour caught my eye as it promised challenge, fun, and adventure." Pratt says that winter is perhaps the best season to search for bird rarities and for raptors like Peregrine Falcons. His expectation? "This trip has the potential to turn up most of the winter birds of the eastern US in a single week within a 50-mile radius of Nag's Head."
Birders who flock to North Carolina's Outer Banks can also enjoy the island's rich history, from pirates, to the Lost Colony, to seeing the oldest brick lighthouse in North America. Abbott says the region's enthusiasm about local foods influenced her choice to promote the tour, citing the many restaurants that feature fresh seafood. She says, "Imagine a blustery day on Hatteras, walking on sand beaches, scanning rock jetties, shorelines and waves. Come in and tally your species around the fire at one of these fine restaurants; where do I sign up?" Another important part of her decision was the existence of a well-organized North Carolina Birding Trail. "These regional efforts, often 5-10 years in the making, show birders that we are welcome and that locals are serious about protecting and sharing their avian wealth."
Pratt's tour can access five significant sites of North Carolina's Outer Banks on the Birding Trail: the Elizabethan Gardens, Roanoke Island Marsh near Wanchese, Jockey's Ridge State Park at Nag's Head, Bodie Island Lighthouse at Cape Hatteras National Seashore, and Pea Island National Wildlife Refuge, where thousands of Snow Geese and Tundra Swans can be seen. For those who like to adventure off the beaten path, there is even a town named Duck.
The weeklong tour runs from Jan. 18-24, 2014. It begins and ends in Raleigh-Durham, North Carolina, and is limited to 8 participants. Visit Naturalist Journeys' website for more information.