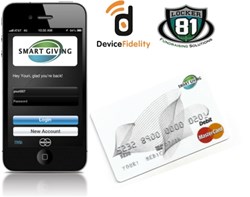 We chose DeviceFidelity Mobile Money Platform for its unique array of features, versatility and quick adaptability to our specific needs.
Richardson, TX (PRWEB) September 30, 2013
DeviceFidelity, Inc., a leader in mobile payment solutions, announces the commercial launch of the Smart Giving Mobile Program in conjunction with Locker81 Fundraising Solutions – a Tim Brown company committed to supporting non-profit clients by providing them the most responsible and effective fundraising concepts in the marketplace. The Smart Giving program turns everyday spending into everyday funding for non-profit organizations.
This signifies a major win for DeviceFidelity Mobile Money Platform which is powering the MasterCard prepaid products and mobile app offered by the Smart Giving Program. The platform provides a rich mobile user experience in conjunction with card issuance and program management of the Prepaid MasterCard associated with the solution.
Focusing predominantly on non-profits involved in Education, Sports and the Ministries, the Smart Giving Program includes a Smart Giving Prepaid MasterCard and a Smart Giving Payroll MasterCard. Every time the Smart Giving MasterCard is used for daily spending at retail stores for gasoline, groceries, entertainment, sporting goods, online shopping, etc., it automatically gives a percentage of the transaction to the non-profit of choice. This makes it an ideal solution for non-profits to responsibly raise money while the members, volunteers, staff, and their friends and family use the prepaid card for normal use.
"We chose DeviceFidelity Mobile Money Platform for its unique array of features, versatility and quick adaptability to our specific needs," said founder and CMO of Locker 81 Fundraising Solutions, Heisman Trophy Winner and College Football Hall of Famer Tim Brown,. "We were able to launch the program in record time, and are able to offer some of the most advanced features available for mobile enabled prepaid programs in the US."
The Smart Giving mobile app combines the ease of mobile sign-up for the prepaid MasterCard, with a broad range of features such as instant balance updates, card to card transfer, cross border money remittance, merchants offers with instant cash rewards, and a wide variety of funding mechanisms.
"We are very motivated to support Locker 81 Fundraising Solutions in their effort to support meaningful causes while demonstrating the modularity, feature set leadership and versatility of our platform," said Youri Bebic, General Manager of Prepaid Services at DeviceFidelity, Inc. "We have continued to invest in our mobile platform and now have the industry's only solution that combines mobile banking, mobile payments and in-app account activation with a broad spectrum of value added services that are available as a turnkey solution to prepaid programs nationally."
About DeviceFidelity:
DeviceFidelity, Inc. develops plug-and-play technologies that empower a variety of institutions to deploy their NFC and mobile security services and applications on millions of mobile phones worldwide. Its patented CredenSE microSD and iCaisse for iPhone solutions transform popular mobile phones into an interactive and secure transaction device. Committed to bringing innovation to the mobile phone, the company launched moneto, the world's first NFC based multi-platform mobile wallet in the US, which has now be expanded to the DeviceFidelity Mobile Money platform – a turnkey solution for prepaid program managers. DeviceFidelity is a private corporation with headquarters in Richardson (Texas) and offices in San Mateo (California), and Aix-En-Provence (France). For more information visit http://www.devicefidelity.com, follow us on Twitter @devicefidelity and at facebook.com/DeviceFidelity.
DeviceFidelity Media Contact:
Stephanie Barrueto
Marketing(at)DeviceFidelity(dot)com
650.587.1970
About Locker 81 Fundraising Solutions
Locker 81 Fundraising Solutions is a Dallas, Texas based company that provides innovative fundraising options to associations, companies, and organizations. Since 2008, Locker 81 Fundraising Solutions has consistently offered robust concepts to help support various funding needs. Locker 81 Fundraising Solutions is a privately held company co-founded by Donald Kelly and Tim Brown, former Oakland Raiders football player. For more information on Locker 81 Fundraising Solutions, please visit http://www.smartgivingcards81.com.
Media Contact:
Michael Sorenson
msorenson(at)smartgivingcards(dot)com