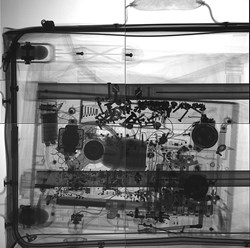 We [Vidisco] believe that this digital X-ray accessory [Slider XL] will be very useful to the security industry as there is a great demand for a portable large scanning area device that would be suitable for field use.
(PRWEB) September 30, 2013
With the new Slider XL, you can quadruple the scanning area of the FlashX and still keep the same incredible resolution, penetration and dynamic range – inspections can be conducted fast, and with only one approach.
The Silder XL enables the FlashX imager to take up to four consecutive X-ray images without repeated approach to the item being inspected. With easy attachment of the panel and the ICU to the Slider XL devise up-range, all inspection equipment can be carried as one unit to the inspection site.
The Slider XL, working with the FlashX digital radiography system offers a dynamic range of 16 bit (65,536 grey levels), resolution of ~3.5 lp/mm (behind 3mm of steel) and a penetration which allows you to see 2 mm of lead behind 80 mm of steel. This product is ideal for field use as it is self-standing, portable, fully battery operated and has a built-in wireless option.
The images appear in just seconds on the FlashX system's computer screen and all four images are joined automatically, giving the end user the highest quality X-rays with an imaging area of maximum 84 cm x 66 cm.
Adar Yiron, Vidisco's VP of Sales and Marketing stated, "Vidisco as a worldwide leader in developing portable X-ray technologies for over two decades is proud to launch the Slider XL. We created an all new, even larger scanning area device to meet the needs of our customers. We believe that this digital X-ray accessory will be very useful to the security industry as there is a great demand for a portable large scanning area device that would be suitable for field use."