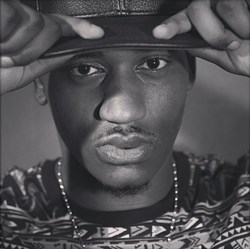 RayBop is 23, and living his dream. He's doing what he loves, an making money from it. So, all he does is make music, nothing else. With that kind of freedom, his creative potential is limitless. - Abdel 'Sosa' Russell, CEO of MVB Entertainment
New York, New York (PRWEB) September 30, 2013
Raimer "RayBop" Mendoza, a 23 year old Hip Hop musician, and now a composer/producer, has been creating and recording music at a feverish pace, since signing with MVB Entertainment's independent record label, MVB Records, in 2011.
Despite his obscurity, in the greater Metropolitan area, and the US for that matter, RayBop has had 3 featured releases on iTunes; all of which appeared on the front page of iTunes' Hip Hop "Hot Indie Discovery" or "New and Noteworthy" section. His first featured release was the "Cheeseburger Wallets" EP, which gained him a small fan base in Canada and the UK, and over a half million new listeners worldwide, in the last quarter of 2012.
He followed the success of "Cheeseburger Wallets" with 2 more featured releases on iTunes; "Crown Fitted", and his compilation album "The Genesis (Best of 2012)", the later of which gained him an editorial review on iTunes.
The Editor's Notes on iTunes reads: "While most new emcees are easily placed in one of a few standard stereotypical styles--high-life trap kingpin, sensitive emo dude, zany frat-nerd, etc.--RayBop is harder to classify, with an original rhyme style that's easy to dig. A gifted storyteller with an ear for unusual but undeniably funky beats..."
RayBop's latest release "Gorgeous Hustle" was released on Spotify, Xbox Music, Rhapsody, and all other music streaming services, on September 24th, 2013, and is currently on pre-order status on iTunes, with an available for purchase date of October 15th, 2013.
As expected, RayBop is almost finished with his next project, as of yet to be titled. Abdel 'Sosa' Russell, the CEO of MVB Entertainment, and owner of MVB Records, says "RayBop is 23, and living his dream. He's doing what he loves, an making money from it. So, all he does is make music, nothing else. With that kind of freedom, his creative potential is limitless."