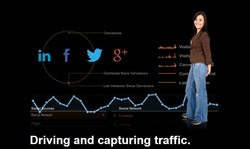 ... these ready-made solutions are accessible, scalable and affordable. It helps them get the content and support they need. - Tiffany Burke, Social Media Producer – D2 Creative
Somerset, NJ (PRWEB) September 30, 2013
D2 Creative recently announced a new series of social media marketing packages as a product offering to add to their custom digital marketing solutions. Designed to help clients improve their web presence through a variety of ready mixed social media packages, the new product line targets smaller businesses—those without a publicity team or don't use traditional advertising.
The series includes packages to service a variety of business needs:
The Basic Presence Build Out Package is an introductory, fixed price package including basic training and graphic assets for small companies or independent business owners to get up and running in social media platforms.
The Content Generation and Publishing Package provides a steady pipeline of content to replace or augment existing publishing processes and includes an initial needs assessment and strategy session.
The Platform and Strategy Alignment Package is intended for companies who wish to build brand integrity and consistency throughout multiple social outlets. Strategy sessions will define brand and business objectives and define the tactical plan to align them.
"Our clients are passionate about their brands. They want to make more meaningful connections with their audience but, often need a road map to get there… these ready-made solutions are accessible, scalable and affordable. It helps them get the content and support they need." - Tiffany Burke, Social Media Producer – D2 Creative
For D2 Creative, the release of the Social Media Marketing Packages marks the first in a series of productized offerings for 2013. These social media packages will be followed by video marketing and brand strategy packages later this year. For more information on the Social Media Marketing Packages visit bit.ly/d2smprelease.
D2 Creative
D2 Creative http://www.d2creative.com is an independent digital agency that helps organizations increase reach, influence, and effectiveness through creative digital solutions.
# # #
If you would like more information about this topic or D2 Creative in general, please contact Carrie Plantamura at the contact information listed.