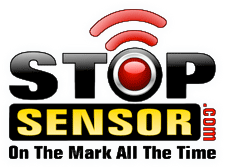 Being recognized as an innovator is a great honor, but the real reward comes from knowing that something I created is out there helping to reduce waste and increase safety
New Salem, ND (PRWEB) September 30, 2013
Trailer alignment technology StopSensor was recently honored with a Sterling Standard Award for Innovation at the 2013 Western Canada Farm Progress Show. The award recognizes creative innovations in the agriculture industry and the minds behind them.
StopSensor aids in the loading and unloading of trucks by helping to precisely align trailers. Drivers are notified instantly when they are on the mark, eliminating the need to rely on a spotter or the tedious practice of repeatedly exiting the cab to check their position. The result is significant reduction in the amount of man hours needed to effectively load and unload trucks. Spillage and waste are also reduced while safety is increased, which can be a great boon to a trucking company's bottom line.
The awards jury at the Western Canada Farm Progress Show, which was made up of some of the most prestigious industry experts in North America, recognized the great potential of StopSensor, and saw fit to honor them with a Sterling Standard Award for innovation.
"It's an honor to be recognized with a Sterling Standard Award at the Farm Progress Show this year," said Larry Mosbrucker, owner of StopSensor. "StopSensor continues to grow in popularity across many different industries and across the country."
Mosbrucker and StopSensor had been previously honored by the North Dakota Department of Commerce as an Innovate ND Idea Champion in 2012. Innovate ND is a program that helps entrepreneurial development by giving business owners access to coaching and other resources to grow a business from the idea up.
"Great programs like Innovate ND have helped to make it possible for StopSensor to grow like it has recently," said Mosbrucker. "Being recognized as an innovator is a great honor, but the real reward comes from knowing that something I created is out there helping to reduce waste and increase safety."
About StopSensor
StopSensor is a North Dakota-based technology company with a product that increases efficiency and reduces labor when positioning trucks and equipment in agricultural and industrial environments by putting you "on the mark, all the time". Our product saves valuable time resulting in improved profitability and safety for our customers.