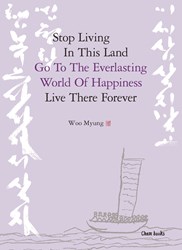 The first drafts that Woo Myung writes are his final drafts.
Sunnyvale, CA (PRWEB) September 30, 2013
Award winning books by Maum Meditation founder Woo Myung are now available for sale directly through Wisdom's Books, the official internet shopping site of US-based publisher Cham Books.
Author Woo Myung has over 10 books published in his native Korean and now Cham Books is publishing Woo Myung's books which have been translated into English and other foreign languages.
His recent book, "Stop Living In This Land, Go To The Everlasting World Of Happiness, Live There Forever" was a Top 100 Bestseller on Amazon for all of 2012 and hit the number one spot in November 2012.
What stands out about Woo Myung's books among the many books available on the market is that for all his works, the first drafts that Woo Myung writes are his final drafts.
All of Woo Myung's books are written in a flowing manner and can be easily read by anyone regardless of their religious background or philosophy.
Wisdom's Books also sells CDs titled "The Songs of Heaven" which consist of 22 songs that were composed and written by Woo Myung in the fall of 2000. He states, "My wish for people to live having become Truth has become songs."
In addition, other items such as bookmarks which also feature Woo Myung's drawings and writings are also available for purchase. Wisdom's Books will continue to add to the product line as they become available.
About Wisdom's Books
Wisdom's Books was founded in March 2012 in the USA and is the official internet shopping site for Cham Books which publishes books about Truth and wisdom.
Its primary author is Woo Myung, who is a world renowned lecturer, winner of numerous books awards, and the founder of Maum Meditation. Maum Meditation is a 7-step method to human completion.