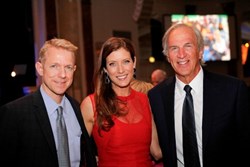 "This is an opportunity to recognize our medical volunteers, thank our generous donors, celebrate in our successes, and collectively evaluate and advance our surgical standards," said Operation Smile's CEO and Co-Founder, Dr. Bill Magee
Norfolk, VA (PRWEB) September 30, 2013
One hundred and sixty medical directors, medical volunteers, and staff members representing 45 countries are gathered in California to celebrate the culmination of Operation Smile's 30th anniversary events that kicked off last November with a yearlong series of surgical missions in the Philippines, the site of the charity's first medical mission in 1982, and concluded this week in Los Angeles with the 2013 Smile Gala followed by a Global Summit in Santa Monica.
"This is an opportunity to recognize our medical volunteers, thank our generous donors, celebrate in our successes, and collectively evaluate and advance our surgical standards," said Operation Smile's CEO and Co-Founder, Dr. Bill Magee, referring to this week's west coast activities.
"We're all here as representatives of our countries and colleagues collaborating to expand our global impact," said Dr. José Guerrosantos, who serves as the Medical Director of Operation Smile Mexico and was presented at the Global Summit with the Gilberto Marino-Contreras International Medical Volunteer Award for devoting his personal and professional life to fostering the values of leadership, education and volunteerism.
The Global Summit is a platform to plan for the future and reflect on the past successes, like the Homecoming Medical Missions to the Philippines, aptly dubbed The Journey Home, which launched the organization's 30th anniversary celebration in 2012 and provided 1,219 life-changing reconstructive surgeries, plus 6,110 dental treatments in 24 days at 9 surgical sites across the Philippines. With a team comprised of 1,000 volunteers from 38 countries, The Journey Home was recognized as the largest medical mission ever organized in the Philippines.
The excitement of The Journey Home yielded amazing results: Operation Smile's long-time partners renewed their commitment, and new supporters, new partners, and new donors stepped up.
Many of those partners joined Smile Ambassador Brooke Burke-Charvet and other celebrity supporters, including Kate Walsh, Kevin Beggs, Jane Seymour and Harrison Ford at Friday's 2013 Smile Gala in Los Angeles. During the gala, which raised a record breaking $3 million for the children's medical charity, Dr. Magee thanked those who made this journey thus far a memorable and fulfilling experience, and told guests that the momentum generated this past year has ignited a fire and rekindled the passion worldwide that will drive the next three decades.
About the Global Summit
First convening in 2006, The Global Standards of Care Conference brought together medical leadership to define a standard of care for all Operation Smile programs. Over the following three years, the Global Standards of Care provided the foundation for safety and quality while strengthening our global systems of comprehensive care. In September 2010, medical leadership convened to review the standards and the Quality Assurance (QA) program was introduced. The QA program is based upon the key principles of global standards, policies and procedures, observation of current medical and clinical practice in education. Our medical programs and the delivery of safe medical practice provide the highest level of care to patients around the world. We continue to explore ways in which we can create sustainable models of comprehensive care. The 2013 Operation Smile Summit serves the dual purpose of examining Operation Smile's Global Standards of Care and strategies for education and capacity building. The Global Summit continues to act as a conduit for capacity building and networking as the medical leadership return to their respective countries.
About Operation Smile (http://www.operationsmile.org)
Operation Smile, headquartered in Norfolk, Virginia, is an international children's medical charity with a presence in more than 60 countries, whose network of 5,400 medical volunteers from 80 countries is dedicated to helping improve the health and lives of children. Since its founding in 1982, Operation Smile has provided more than 3.8 million healthcare evaluations and conducted over 200,000 free surgical procedures for children and young adults born with cleft lips, cleft palates and other facial deformities, as well as patients suffering from burns. To build long-term self-sufficiency in developing countries, Operation Smile trains doctors and local medical professionals in its partner countries so they are empowered to treat their own local communities, donates medical equipment and supplies, and provides year-round medical treatment through Comprehensive Care and Training and Treatment Centers.