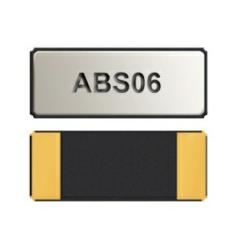 The ABS06-107-32.768kHz-T electrodes are optimized to lower the in-circuit load sensitivity, while providing a higher unloaded 'Q' than any competitor's device in the market
Rancho Santa Margarita, CA (PRWEB) June 25, 2013
A globally preferred, leading supplier of frequency control and magnetic components, Abracon Corporation introduces its ESR Optimized, 4pF Tuning Fork Crystal for ultra-low power RTC applications.
"Housed in a space saving 2.0 x 1.2 x 0.6mm SMT package, the ABS06-107-32.768kHz-T device offers a guaranteed maximum ESR of 80kΩ, while plated at a 4pF effective load. Low power RTC applications with amplifier transconductance of less than 3µA/V will exhibit exceptional oscillator loop margin, while keeping timing precision," explains Syed Raza, Director of Engineering at Abracon.
Continues Raza, "The ABS06-107-32.768kHz-T electrodes are optimized to lower the in-circuit load sensitivity, while providing a higher unloaded 'Q' than any competitor's device in the market and are being developed in cooperation with ST Micro and is qualified on the STM32L1, F2 and F4 Reference Designs."
With a standard operating temperature range of -40C to +85C, this low cost precision crystal is ideal for systems requiring ultra-low power consumption. This device is also optimal for space constrained designs such as coin-cell and other battery powered hand-held solutions, smart grid meters, smart cards, wireless sensors and tags, medical electronics, patient monitoring, utility meters, data loggers, appliances, handsets and other general purpose consumer electronics.
Key features of this 4pF-Plated Tuning Fork Crystal include:

Better than ± 20.0 ppm set tolerance into a 4pF effective oscillator loop load
Less than 60kΩ typical and 80kΩ maximum ESR
Plated at 4pF effective load
Better than ± 250.0 ppm accuracy over -40C to +85C operating temperature range
A space saving 2.0 x 1.2 x 0.6mm SMT package – RoHS compliant
This solution is currently in stock at Abracon and will be available through Abracon's Global Distribution partners at a competitive resale price in August 2013.
Abracon Link:
http://www.abracon.com/Resonators/ABS06.pdf
For technical assistance with this product, please contact Abracon Corporation at tech-support(at)abracon(dot)com.
Abracon Corporation was established in 1992 with the vision of becoming a top tier global manufacturer of Frequency Control, Signal Conditioning, Clock Distribution and Magnetic Components with local design and technical support. Abracon provides its customers with high quality products, competitive pricing, timely delivery, reliable engineering and technical support, plus production flexibility worldwide.