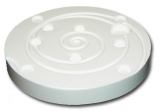 EMF radiation is not visible to naked eye but can be detrimental to health. Choose ADR-3 Shield for best EMF protection.
Baltimore, Maryland (PRWEB) May 16, 2013
There are some things not visible to a naked eye that can be detrimental to health. A big example of this health hazard existences in homes and offices are high intensity geopathic and EMF radiation, creeping in undetected. The full awareness of the EMF radiation constantly emitted from electrical outlets, wires and power lines and directly affecting health is still too narrow. However, research shows that EMF radiation is known to cause harmful effects to our body cells, giving vague symptoms of fatigue, weakness, headaches, ill temper, body aches and general malaise. Worse, electromagnetic radiation plays a factor on a likelihood of getting cancer sooner or later on in life.
ADR-3 Shield Protection has been designed to fight this health hazard, especially in homes and offices. Combating and neutralizing the negative effects of EMF radiation that can be found in electrical, power and water sources as well as high intensity geopathic radiation that surrounds homes and public buildings. The ADR-3 Shield is a ceramic dish, infused with specially prepared proprietary shielding solution that placed close to a power supply or electrical circuits and installations neutralizes the negative radiation which comes from man made and natural power source.
Due to effects of ADR-3 Shield, one will find greater improvement in the growth of plants, flowers and garden overall. In cases of symptoms, such as: suffering from fatigue, headache, body pain and other disease-like symptoms, one will notice that these symptoms will be significantly reduced or in some cases entirely gone. In addition, other residents living at home, especially children, will also benefit from EMF protection. ADR-3 Shield has been designed to safeguard residents of homes and offices against EMF radiation in a natural way.
About AdrProVita.com
Imagine world without harmful influence of EMF's and high intensity geopathic radiation. Life without negative effects of electromagnetic radiation causing headaches, migraines, sleep disorders, chronic fatigue, exhaustion and hormonal disorders. These are just a few symptoms associated with the exposure to artificial (man made) electromagnetic radiation. The necessity for finding integrated solutions that take into account the health aspects has been recognized by the World Health Organization (WHO) and other international institutions. Following this path, AdrProVita provides a simple but unique solution, "protective shield" against the electromagnetic radiation. This shield utilizes the same process which the human body uses to absorb radiation in order to weaken its intensity. AdrProVita's EMF protection products provide the uniquely reliable solution that prevents the negative influences of EMF radiation.