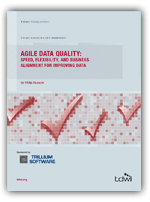 Upon hearing the term agile development, people think about development speed. That's the wrong focus for data quality. Instead, organizations should look upon agile data quality as a means to important business ends.
Seattle, WA (PRWEB) June 18, 2013
TDWI Research has released its newest Checklist Report, Agile Data Quality: Speed, Flexibility, and Business Alignment for Improving Data. The report examines how organizations can improve the agility of their data quality projects and reveals the critical success factors for agile data quality.
"Data quality has always been a moving target because enterprise data represents real-world entities that naturally evolve over time," notes Philip Russom, author of the report. "As if that weren't challenging enough, data quality professionals are under renewed pressure to identify and provide quality improvements for new sources and types of data," he explains.
Agile data quality isn't just about development speed, Russom notes. "Upon hearing the term agile development, people familiar with agile methods think about development speed." That's the wrong focus for data quality. Instead, organizations should look upon agile data quality as a means to important business ends.
The report looks at other key features of agile as they apply to data quality, including how to eliminate wasteful waiting and enable collaboration with self-service functionality. The Checklist Report also explains that the agile method should not be used as an excuse to eliminate documentation, and suggests three key forms that data-driven documentation must take in an agile project.
In addition, the report:

Explains a simple and agile approach for creating data prototypes to accelerate data quality projects
Discusses why documentation isn't agile unless it's online, and the role collaboration plays in developing documentation
Describes why generalizing data quality functionality into numerous data quality services helps organizations develop the business blocks of data quality solutions
Lists the four key traits any vendor data quality tool should have
This research was sponsored by Trillium Software.
For a complete copy of the report, please contact Philip Russom at prussom(at)tdwi(dot)org. The report is freely downloadable by the public at http://tdwi.org/agiledataquality; a short registration is required for those downloading a TDWI report for the first time.
About the Author
Philip Russom is a well-known figure in data warehousing and business intelligence, having published more than 500 research reports, magazine articles, opinion columns, speeches, Webinars, and more. Today, he's the TDWI Research Director for Data Management at The Data Warehousing Institute (TDWI), where he oversees many of the company's research-oriented publications, services, and events. Before joining TDWI in 2005, Russom was an industry analyst covering BI at Forrester Research and Giga Information Group. He also ran his own business as an independent industry analyst and BI consultant and was a contributing editor with leading IT magazines. Before that, Russom worked in technical and marketing positions for various database vendors. You can reach him at prussom(at)tdwi(dot)org, @prussom on Twitter, and on LinkedIn at linkedin.com/in/philiprussom.
About TDWI
TDWI, a division of 1105 Media, Inc., is the premier provider of in-depth, high-quality education and research in the business intelligence and data warehousing industry. TDWI is dedicated to educating business and information technology professionals about the best practices, strategies, techniques, and tools required to successfully design, build, maintain, and enhance business intelligence and data warehousing solutions. TDWI also fosters the advancement of business intelligence and data warehousing research and contributes to knowledge transfer and the professional development of its members. TDWI offers a worldwide membership program, five major educational conferences, topical educational seminars, role-based training, on-site courses, certification, solution provider partnerships, an awards program for best practices, live Webinars, resourceful publications, and an in-depth research program. For more information, visit tdwi.org or follow us on Twitter @TDWI.
About 1105 Media
1105 Media, Inc., is a leading provider of integrated information and media in targeted business-to-business markets, including specialized sectors of the information technology community; industrial health, safety, and compliance; security; environmental protection; and home healthcare. 1105's offerings span print and online magazines, journals, and newsletters; seminars, conferences, and trade shows; training courseware; and Web-based services. 1105 Media is based in Chatsworth, CA, with offices throughout the United States.
Media Contact:
Philip Russom, TDWI
prussom(at)tdwi(dot)org | 781.862.2880