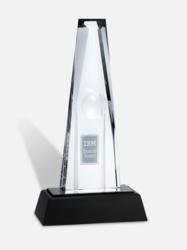 We're extremely proud and honored with this recognition of the business impact we have made with major retailers, enhancing their ability to acquire, retain and cross-sell customers across physical and digital worlds
Evanston, IL (PRWEB) February 28, 2013
Aginity was named winner of the 2013 IBM Beacon Award for "Best Industry Solution for Retail" for their flagship offering, Customer Intelligence Appliance – a quickly-deployed, integrated set of adaptable software, hardware and embedded analytics that enables retailers with an omni-channel view of customers and connects into marketing execution systems to make customer interactions more real-time, relevant and personalized. This honor is awarded each year in recognition of a select number of IBM Business Partners who have delivered not only innovative solutions, but have set the standards for business excellence, ingenuity, and creation of an exceptional client experience.
"We're extremely proud and honored with this recognition of the business impact we have made with major retailers, enhancing their ability to acquire, retain and cross-sell customers across physical and digital worlds," said Ted Westerheide, Aginity Chief Architect. "A retailer can implement the Aginity Customer Intelligence Appliance on an IBM PureData for Analytics box in weeks, and gain deeper, actionable insights from big data to drive customer interactions - across touchpoints such as email, mobile, behavioral targeting networks and campaign management systems - at game-changing speed."
Aginity Chief Architect, Ted Westerheide, shared, "Retailers benefit from the built-in foundation of data models, behavioral attributes and tools, including retail-specific best practice customer segments, reporting and playbooks. Plus, the flexibility and scalability allows retailers to customize and manage customer behavioral analytics to meet their unique business requirements. We see this as helping to fulfill the IBM initiative around a smarter planet by providing a solution that serves as the brain for customer intelligence, combining data science and marketing interactions for more relevant customer experiences."
Retail Clients Realize Quick Time-to-Value
Bass Pro Shops® adopted the Customer Intelligence Appliance to gain insight on their customers' needs and provide better products and shopping experiences across all their channels, consisting of retail stores, boat dealerships, internet and catalog sales, wholesale, and hospitality, including restaurants and world class destination resorts.
"IBM analytics allowed us to quickly get information across our multiple channels and lines of business in one place to deliver meaningful analytics that drive top line and bottom line results," said the Chief Information Officer at Bass Pro Shops®. "We can now create and deliver more targeted promotions, circulars and catalogs to create a better customer shopping experience."
(more)
IBM Beacon Awards
The Beacon Awards are a vital element of IBM's Business Partner recognition program. Announced at the IBM PartnerWorld Leadership Conference in Las Vegas, Nevada, and selected by leading industry influencers and IBM executives from among hundreds of nominations, IBM's Beacon Awards recognize IBM Business Partners who have demonstrated business excellence in delivering IBM-based solutions resulting in client transformation and business growth. This year's awards recognized Business Partner achievements across 30 award categories.
"The IBM Beacon Awards recognize IBM Business Partners who have delivered exceptional innovation by creating a solution proven to drive business value by transforming the way their clients do business," said Mark Hennessy, general manager, IBM Global Business Partners. "We congratulate Aginity on winning the Beacon Award for retail solutions and demonstrating its ability to enhance customer intelligence with a far richer and dynamic human dimension."
More information about the IBM Beacon Awards, including information about winners and finalists.
Learn more about IBM PartnerWorld, a comprehensive program that offers marketing and sales resources, training, certification and technical support to help create new revenue and market opportunities for IBM Business Partners. To find an IBM Business Partner with a particular set of skills, a technology reseller or a consultant with industry expertise, visit the Business Partner Locator
About Aginity
Aginity is a leading customer intelligence company combining experience in big data, big math and marketing sciences to build and deploy customer analytic solutions that enable customer intimacy at scale. Aginity helps its clients build meaningful relationships with their customers and take profitable action based on deep customer insight.
About Aginity Customer Intelligence Appliance
The Aginity Customer Intelligence Appliance (CIA) is an integrated set of software, hardware and embedded analytics that creates a multi-channel view of customers. Deployed in weeks, CIA connects operational systems and makes a retailer's interaction with customers more real-time, relevant and personalized. CIA is built on IBM PureData System for Analytics (powered by Netezza) and also integrates with IBM Big Insights (hadoop) and Cognos.
Discover. Organize. Analyze. Realize. With CIA, a retailer can discover patterns in their customer big data, "digital exhaust" and unstructured data, organize it in our proprietary future-proof data model optimized for the index-free environment, allowing flexibility to add new data sources and attributes on the fly with a self-managed approach. Then they can analyze purchase propensities, customer migration, lifetime value and cross-purchase patterns, to name a few. Retailers then realize outcomes through connection to marketing execution systems along with connections to physical and digital customer touchpoints.
Learn more about the Aginity Customer Intelligence Appliance at http://www.aginity.com .