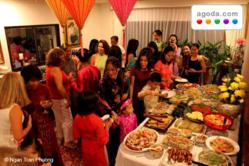 Experience Vietnam's most colorful and important festival with great hotel deals for Vietnamese Tet!
Singapore (PRWEB) February 06, 2013
Agoda.com, Asia's leading hotel booking site and part of Nasdaq-listed Priceline Group (Nasdaq: PCLN), has selected a list of hotels offering big savings in the leadup for the colorful and raucous Vietnamese Tet Festival.
The festival's full name is Tết Nguyên Đán, and it falls on the first day of the first month of the lunar calendar, which this year is on February 10. By far the most important celebration in the Vietnamese year, Tet is a national holiday that marks the arrival of spring, traditionally seen as a time of renewal and preparation for the year ahead. Although there are many general customs and traditions that everyone follows, an interesting aspect of the holiday is that it is celebrated differently in various regions throughout the country. Some regions celebrate longer, some observe customs that others do not, while others prefer certain types of food not eaten elsewhere.
But no matter where in Vietnam one ends up, Tet is a time of high spirits and active communities. Temples and houses are decorated with trees, flowers, and calligraphy, many to welcome those that have sometimes traveled great distances to see their families.
Generally speaking, Tet celebrations start ramping up a few weeks before the holiday, as people run around shopping, cooking, cleaning, and taking care of errands so they can enjoy the holiday stress-free. The night before the first day – February 9th this year – streets and courtyards around the country will be full of furnaces and fires of all sizes where celebrants will burn paper money and other objects as a symbolic offering to their ancestors. February 10 will see many people visiting relatives on their father's side, and February 11 is time to visit relatives on their mother's side. The final day, February 12, is reserved for visits to teachers, who are held in high regard in Asian cultures.
There are plenty of other customs and traditions that one can see during Tet – offerings of fruit and plants are made on family altars, gifts of all kinds are given to friends and neighbors, special snacks and meals are prepared, and money is given to children. There are also plenty of things one should not do, such as clean house (as it represents sweeping away good luck), eat duck or shrimp, say or do negative things, or refuse any gifts offered. Be careful!
Visiting Vietnam during Tet is an amazing experience in a distinctive country. The hotel deals below allow travelers to participate in the celebrations in some of Vietnam's most notable, colorful, noisy and enjoyable Tet destinations. And remember: Chúc mừng năm mới! (Happy New Year!)
Saigon (Ho Chi Minh City)
Majestic Hotel Saigon 5*
Enjoy 59% off your stay. Expires December 31, 2013.
Saigon Tan Son Nhat Hotel 5*
Enjoy 52% off your stay. Expires February 28, 2013.
Royal Lotus Hotel Saigon 4*
Enjoy 50% off your stay. Expires March 17, 2013.
Da Nang
Hyatt Regency Danang Resort & Spa 5*
Enjoy 33% off your stay. Expires February 28, 2013.
Star Hotel Danang 3*
Enjoy 50% off your stay. Expires February 28, 2013.
Hoi An
Hoi An Marina Resort & Spa 4*
Enjoy 45% off your stay. Expires March 31, 2013.
Hoi An Garden Villas 3*
Enjoy 20% off your stay. Expires April 30, 2013.
Hanoi
Ngoc Diep Asia Hotel 1.5*
Enjoy 15% off your stay. Expires February 15, 2013.
Senses Hotel 3*
Enjoy 50% off your hotel. Expires April 30, 2013.