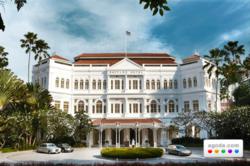 Agoda.com has taken a look back at 2012 and has emerged with a list of its top 12 hotels, as chosen by customer reviews.
Singapore (PRWEB) January 16, 2013
Agoda.com, Asia's leading hotel booking site and part of Nasdaq-listed Priceline Group (Nasdaq:PCLN), has taken a look back at 2012 and compiled a list of its twelve highest rated hotels for the year as graded by customers.
The reviews on Agoda.com are an important record of a customer's actual experience at a hotel. Free from PR spin and embellishment, reviews that appear on the website are written by actual customers only after they have completed their stay, and as such are an accurate reflection of an average visit.
When customers review a hotel, they are asked to rate their stay based on various criteria, including value for money, location, staff performance, cleanliness, comfort, and food. These scores are then averaged to get that customer's overall rating of the hotel. To find the top-rated hotels for 2012, Agoda.com took the sum of all customer ratings on a particular hotel and divided that by the number of reviews to get the hotel's final ranking.
Here, in order, are Agoda.com's 12 highest rated hotels for 2012, based on reviews written from January 1 – December 31, 2012:
Raffles Hotel, Singapore
Score: 9.506
"Without a doubt the best accommodation we have ever experienced. We were treated like family and their breakfast is something you have to experience to believe. If you are staying in Singapore do yourself a favor and stay at Raffles." – Robert, Australia
The Chedi Chiang Mai, Thailand
Score: 9.467
"We really enjoy everything, the hotel is wonderful, the service, the accommodation, everything that we need to have an excellent experience in Chiang Mai." – Luis, Mexico
Komaneka at Bisma Ubud, Bali, Indonesia
Score: 9.445
"Komaneka at Bisma is an amazing place to stay. The views are breathtaking as is the hotel itself. The staff could not be more helpful and pleasant." – Clare, Australia
The Imperial Hotel, New Delhi, India
Score: 9.442
"The Imperial is a piece of history and while staying here I felt like I was back in time with the grandeur of the colonial times. Amazing service and a warm welcome made our stay perfect." – Alexandre, Belgium
Komaneka at Rasa Sayang Ubud, Bali, Indonesia
Score: 9.416
"The Komaneka at Rasa Sayang set such a high benchmark for accommodation during our trip to Bali that it was almost impossible for any other places we stayed to compete with." – Andrew, UK
Essence Hanoi Hotel, Hanoi, Vietnam
Score: 9.408
"This is one of the nicest hotels I have ever stayed at. My suite was lovely with a fantastic walk-in shower. The staff were very helpful, even going through a map of places to see. It was walking distance to all the major sites." – Susan, Canada
Kajane Mua Villas, Bali, Indonesia
Score: 9.378
"Kajane Mua Villas was truly one of the best resorts we have ever stayed at. Staff was amazing and helpful. The resort was wonderful for a family with children. Truly central location in Ubud. Beautiful villas with pool. Perfection." – Wallace, USA
Jeevaklui Hotel, Lombok, Indonesia
Score: 9.365
"From check in until check out it was a pleasure to stay here, enjoy the beach and the view, and get completely relaxed. The spa with a wonderful massage was to die for! This was my 5th time, and it won't be the last!" – Jacqueline, Netherlands
Hanoi Elegance Diamond Hotel, Hanoi, Vietnam
Score: 9.362
"The hotel was everything we'd hoped for and more - welcoming staff, informative map, and a great location complimented by the beautifully appointed rooms! The breakfast was also great - a huge buffet spread and individual menu items all included in the room price." – Catherine, New Zealand
The One Vacation Home, Malacca, Malaysia
Score: 9.361
"This is a family hotel, and its owner is very nice. He gave us a map with marks of restaurants offering delicious food, which was very useful. The hotel was a two-floor villa with clean and comfortable rooms. It really felt like home." – Quan, China
Kuredu Island Resort and Spa, Maldives
Score: 9.346
"Had the most wonderful stay at Kuredu. Even though our room was just the garden bungalow it was comfortable and spacious. Really loved the open shower concept and we had a great time at the spa as well. The resort also had great staff and efficient service." – Marliyana, Singapore
Apsara Centrepole Hotel, Siem Reap, Cambodia
Score: 9.328
"I loved this hotel, it ticked all the boxes. It is the friendliest staffed hotel you could possibly go to – they are so welcoming and thoughtful. It was a delight to stay there." – Sean, UK
To connect with Agoda.com for special deals on hotels worldwide, please visit our website at http://www.agoda.com. Like us on Facebook at http://www.facebook.com/agoda or add us to one of your Google+ circles at http://plus.google.com/+agoda