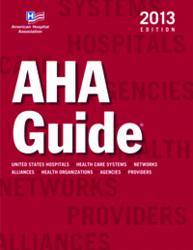 The AHA Guide is the most comprehensive directory in the industry with data from the AHA's Fiscal Year 2011 Annual Survey of Hospitals, AHA membership data, and information on 700 health care organizations, associations and governmental agencies and 3,000
Chicago, IL (PRWEB) September 26, 2012
The 2013 edition of the AHA Guide®, an American Hospital Association publication containing comprehensive information on 6,500 hospitals and 400-plus health care systems, networks and alliances now includes Chief Nursing Officer contact information and codes that indicate the existence of pediatric emergency departments and psychiatric residential treatment facilities at hospitals. The new edition release is September 28th.
The AHA Guide® is the field's most-used reference for hospital C-suite information and a quick reference for market segmentation and analysis. Profile data includes details on physician arrangements, hospital organizational structure, approval code/accreditations, and Medicare Provider Identification. Users can build in-depth hospital profiles using data on hospital service lines and utilization characteristics like staffed beds, admissions, census, outpatient visits, births, payroll expenses and personnel.
The AHA Guide is the most comprehensive directory in the industry with data from the AHA's Fiscal Year 2011 Annual Survey of Hospitals, AHA membership data, and information on 700 health care organizations, associations and governmental agencies and 3,000 other accredited provider organizations.
The AHA Guide®, 2013 edition is available in a CD format that allows limited electronic search. The CD enables the viewing and printing of complete hospital profiles and direct links to hospital web sites. A combination price for the AHA Guide book and CD is also available.
For additional information, call 800-AHA-2626 or visit http://www.AHADataViewer.com.
AHA Guide® 2013 edition (book): $350; AHA Item no. 010013
AHA Guide® 2013 edition (CD): $505; AHA Item no. 011713
AHA Guide® 2013 edition (book and CD): $675; AHA Item no. 011813
------------------------------------------
About Health Forum
Health Forum is a strategic business enterprise of the AHA, creatively partnering to develop and deliver essential information and innovative services to help health care leaders achieve organizational performance excellence and sustainability.
About AHA
The American Hospital Association is a not-for-profit association of health care provider organizations and individuals that are committed to the improvement of health in their communities. The AHA is the national advocate for its members and comprises more than 5,000 member hospitals, health systems and other health care organizations, and 42,000 individual members. Founded in 1898, the AHA provides education for health care leaders and is a source of information on health care issues and trends.
###