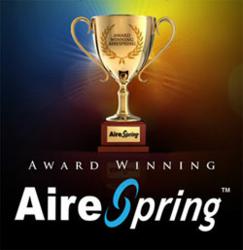 A podcast about AireSpring's new Metaswitch Accession platform is available at the following link: http://www.airespring.com/pbx-podcast
Las Vegas, Nevada (PRWEB) February 27, 2013
Award winning AireSpring, a leading provider of fully managed cloud communications, announced today, from the Channel Partners Expo, plans to deploy Metaswitch Accession technology on its popular AirePBX product. Accession Communicator will allow subscribers to make high quality voice and video calls from their smartphones and tablets over 3G, 4G, or Wi-Fi networks, presenting their same 'twinned' enterprise phone number. With Accession Communicator, AirePBX will become a true multi-media telephony solution, allowing subscribers to seamlessly move calls in progress between clients on their iPad, iPhone, Android, or PC devices and their desk phone or cellular device, freeing users from their desks and making them truly mobile.
Alongside high quality voice and video calling, tablet and smart phone users will have the ability to review and forward their visual voicemail, video-mail, and fax messages, as well as configure their call management rules.
In addition to the Unified Communications enhancements of Accession, AirePBX includes free Local, free Interoffice Calling, free Proactive Network Monitoring, free Phones, and optional Unlimited Long Distance. AirePBX offers HD voice, a full featured Auto Attendant, Advanced Call Routing, Find Me - Follow Me, Simultaneous Ring, Caller ID, Call Forwarding, Call Park, Call Transfer, Conferencing, Fax to Email, Unified Visual Voicemail, Three-way Calling, Toll Free Numbers, Virtual Extensions, Advanced Online Management Portal, and much more. All features and options are fully customizable from a robust, but simple, online management portal.
"AirePBX is one of our fastest growing products. We are proud of the rich feature set and ease of use. Accession will further enhance and distinguish the product by making communications truly mobile across all devices," said Daniel Lonstein, AireSpring Chief Operating Officer. "Combine unbeatable features with AireSpring's fully managed IP Network and AirePBX instantly proves itself as the standout among would-be competitors."
Customers utilizing AireSpring's MPLS products may seamlessly layer AirePBX (or any of the company's voice and data products) over Airespring's advanced next generation IP network. This configuration allows for flexibility, security, and rapid scalability.
Bring-Your-Own-Device (BYOD) has become a leading trend in offices worldwide. AirePBX can bind those devices to the corporate phone system, allowing for true mobile and device independence. Users can completely cut the cord with the office yet still receive all of their calls, voicemail, faxes, and video messages.
"Metaswitch's Accession portfolio makes mobile Unified Communications deployable as a genuinely usable business service," said Al Cook, Vice President of Business Services Products at Metaswitch. "Our focus on voice and video quality, battery life management, and platform independence makes this a real solution for customers' modern business environments."
A podcast about AireSpring's new Metaswitch Accession platform is available at the following link: http://www.airespring.com/pbx-podcast
About Metaswitch Networks
Metaswitch is powering the transition of communication networks into a cloud-based, software-centric future. With a reputation earned by solving tough technical problems, Metaswitch develops openly programmable solutions that run on standard hardware or in virtualized environments and act as the key control points in elastic voice, video, and data networks. For more information, please visit http://www.metaswitch.com. Follow us on Facebook, Twitter, and LinkedIn.
About AireSpring
Headquartered in Los Angeles, award winning AireSpring is one of the fastest growing telecommunications carriers in the USA, with over 6 billion call records processed every year. AireSpring is a privately held, diversified, debt-free, and full service communications company which offers a broad range of innovative telecommunications services at competitive rates. AireSpring offers next-generation Cloud Hosted PBX, MPLS Mesh, voice, data, integrated, SIP/VoIP, and conferencing products designed to deliver power and flexibility at cost-effective rates. AireSpring has received 17 product awards and has been voted "Product of the Year," "Best Telecom Deal," "Members Choice top reseller," "5 Star Carrier," "Top SIP Trunking Provider," and "Top Channel Program" in recent years. Customers, Telecom agents and Value Added Resellers can find more information about AireSpring at AireSpring.com, or by contacting Todd Regan at (818) 738-1913. Follow us on Facebook, Twitter, and LinkedIn.