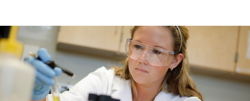 Today's healthcare arena requires professionals who are not only clinicians working with patients, but also those who work in many other areas of healthcare.
Reading, PA (PRWEB) April 04, 2013
Alvernia University, widely recognized for its healthcare degrees, is at the forefront of addressing a rapidly growing need for skilled and specialized employees in the healthcare field. Its new Healthcare Sciences major, launched this spring, offers diverse opportunities to compliment a range of nursing programs, in order to fill a gap that has recently emerged in the industry.
Researchers at Georgetown University's Center on Education and Workforce predicted recently that 5.6 million additional healthcare workers – particularly highly educated and skilled workers – will be needed by 2020.
Alvernia University's newly implemented Healthcare Sciences major can prepare students for a wide range of health science related jobs, including:

Positions in healthcare agencies and businesses
Jobs in medical care settings
Community-based positions such as health educators, advocates or health managers
Medical writers
Policy analysts
Jobs in government organizations or consumer groups
Pharmaceutical sales
Medical and dental product sales
Research technicians
Patient educators
"The intent is to meet the needs of the broad arena of jobs," says Dolores Bertoti, an associate professor and Chair of Alvernia's Allied Health and Human Services department, who helped to develop the major. "We need bachelor-level, trained professionals to work in the many areas of healthcare."
The Healthcare Science Program is an excellent mid-degree opportunity for transfers, and highly recommended for those with associate degrees and working as occupational or physical therapy assistants, medical imaging professionals, dental hygienists, imaging professionals or respiratory therapists.
Students who earn degrees in Healthcare Science also could elect to continue their studies in graduate or professional schools.
"The major is intended to be diverse," Bertoti says. "Today's healthcare arena requires professionals who are not only clinicians working with patients, but also those who work in many other areas of healthcare."
In keeping with the University's Franciscan values, the mission of the Healthcare Science program, as well as other healthcare degrees, is to prepare graduates to work in a changing healthcare environment while becoming engaged in their communities. The program provides education from the Catholic and liberal arts traditions, combining professional education with ethical values.
Alvernia University makes it possible to earn healthcare degrees in Pennsylvania by ensuring flexibility, affordability and attainability. Flexible course offerings, including weeknight and Saturday classes, enables students to pursue their degrees as they continue working, caring for families or pursuing other ventures.
Alvernia offers a tuition deferment program and a variety of financial aid options to make education affordable. Students may qualify for non-profit worker discounts or tuition deferment.
And, with three locations and options for accessing online courses or creating a blend of online and classroom learning, an Alvernia education is highly attainable.
About Alvernia Healthcare Degree Programs:
Alvernia, a leading provider of healthcare degrees in Pennsylvania and the surrounding communities of Pottsville, Harrisburg, Allentown, Lancaster, Kutztown and Philadelphia, offers accredited classes taught by experienced faculty and with multiple course formats for both traditional and adult students. For more information, visit:
http://www.alvernia.edu/academics/adultedu/bachelor-science/healthcare-science.html