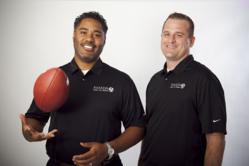 When you have a great model in a great industry, growth is inevitable.
Orange County, California (PRWEB) June 12, 2013
After 14 years in the senior care industry, Laguna Woods based company Amada Senior Care began franchising its model back in March of 2012. Now, just over a year later, the business formed by former Chicago Bears offensive tackle Tafa Jefferson has over 10 franchisees throughout the United States. Amada franchisees have offices in California, Oregon, Washington state, Colorado, Nevada, Texas and Kansas – and are expected to reach 20 in number by the end of this year.
Amada's very first franchisee, Robert Christensen, started his business in the Tacoma, Washington area early last year. He was drawn to Amada because of their unique business model - not only do they focus on in-home caregiving, they also assist seniors with the process of finding the right skilled nursing facility if this is the best option. "We're here to be advocates for seniors," Robert said. "Sometimes an in-home caregiver might not be what's best, and that's when we help look into what skilled nursing facility is really the most suitable for that senior's needs. Every situation is different." Robert's business quickly became successful and he has since partnered with other Amada franchisees to help fund their endeavors.
After Robert, a Colorado Springs native, Ken Jensen, joined Amada's ranks. Then Asa Shuey, a former medical device sales territory manager, opened an Amada business in Wichita, Kansas. It wasn't long before a branch was opened in Portland - then in Los Angeles, Roseville, and Northern San Diego, California. The most recent franchises have been in Houston, Las Vegas and Vancouver, Washington.
"We've gotten a lot of franchise partners from the pharmaceutical sales and medical device sales space," said Chad Fotheringham, Amada's president, who himself came from the pharmaceutical sales industry. "These people seem to really understand territory management, sales and our relationship-based business model."
Amada CEO, Tafa Jefferson, recently made OC Metro magazine's "40 Under 40" list - a compilation of the publication's top 40 CEOs in Orange County under 40 years of age. "We're thrilled about Amada's continued growth," Tafa said. "And expect to easily exceed our original goal of 20 franchisees by the end of 2013."
Though exciting, Tafa noted the franchise's accelerated growth wasn't surprising. "The senior population is rising rapidly, and senior care was listed in several publications as the best business to start this year. When you have a great model in a great industry, growth is inevitable."
Since 2007, San Clemente, California based company Amada Senior Care has enriched lives by providing compassionate non-medical in home care and by guiding families through the many senior housing options available for assisted living. For more information on Amada Senior Care, please call (949) 54-AMADA or visit http://www.amadaseniorcare.com.