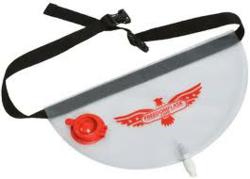 Ambassadors will earn a flask by snapping a few photos and videos.
(PRWEB) January 30, 2013
Fans of the Freedom Flask can now earn what CEO Guy Davidson calls, "The best hidden flask on the market" just by submitting a few photos. Ambassadors will also have the chance to win other freebies, such as apparel, cash and concert tickets.
Becoming part of the Flask Force isn't for everyone. Applicants need to be outgoing, slick with social media, and know their way around a camera and video camera (or at least these features on their smartphone).
Potential candidates must be bold, fun and willing to take risks. Ideal candidates are a cross between Van Wilder and the Dos Equis' "Most Interesting Man." He is unafraid to wear Chubbies shorts, wants to go to Rio Carnival, and will finally pay a cover charge because he's saving money by wearing his booze.
Becoming a Freedom Flask Ambassador means becoming part of a brotherhood of risk-takers and wild men, adventurers and guys that grab life by the b-, er, horns. Davidson says, "Flask Force members will be rewarded for having fun. How easy is that?"
Company Information
The patented Freedom Flask was designed by a University of Georgia grad who wanted to provide the best hidden flask on the market. The result is a no leak product that let's you wear your booze anywhere you chooze: concerts, movies, sporting events, golf courses, parties and outdoor festivals. Rowdy gentlemen and women worldwide have purchased their Freedom Flasks that pay for themselves after the first use.