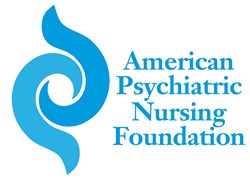 The Foundation is pleased to support such valuable and timely research while also helping the newest generation of nurse researchers embark upon their research careers.
Falls Church, VA (PRWEB) June 28, 2013
The American Psychiatric Nursing Foundation (APNF), a charitable foundation dedicated to preserving psychiatric mental health nursing's past and ensuring its future, has awarded grants of $5,000 each to two psychiatric mental health nurse researchers: Marian J. Hardwick, MS, RN for her research proposal, "Accelerated Resolution Therapy for PTSD and Sleep Disturbance", and Kerry Peterson, DNP, PMHCNS, PMHNP for her proposal entitled, "Evaluation of Two Dating Violence Prevention Programs on a College Campus".
The APNF Research Grant Program was established in 2008 with the intent to seed psychiatric mental health nurses who are in the early stages of their research careers, enhance the scientific contributions of psychiatric mental health nursing, and grow the base of evidence that informs psychiatric mental health nursing practice. "The Foundation is pleased to support such valuable and timely research while also helping the newest generation of nurse researchers embark upon their research careers," says Grayce Sills, PhD, RN, FAAN, President of the APNF's Board of Trustees.
Marian J. Hardwick, MS, RN is a PhD student in the University of South Florida College of Nursing in Tampa, Florida. She will conduct her dissertation study on the effects of Accelerated Resolution Therapy (ART) for post-traumatic stress disorder (PTSD) (specifically the veteran population) focusing on sleep disturbance, which is one of most distressing symptoms associated with PTSD. Marian seeks to increase REM sleep and quality of sleep in persons with PTSD and intends to graduate in 2014.
Dr. Kerry Peterson is an Assistant Professor at the Beth-El College of Nursing and Health Sciences in the Graduate Nursing Department at the University of Colorado in Colorado Springs. She completed her BSN, MSN, and Doctorate of Nursing Practice at Shenandoah University, and is currently pursuing her PhD in Nursing at Johns Hopkins University. Dr. Peterson is a Psychiatric Mental Health Clinical Nurse Specialist (PMHCNS) and Nurse Practitioner (PMHNP) whose research interests include prevention and interventions for intimate partner violence and mental illness.
In addition to the grants, Hardwick and Peterson will also receive complimentary registration to the American Psychiatric Nurses Association 27th Annual Conference, which will be held in San Antonio, Texas October 9–12. This conference is the premier event for psychiatric mental health nursing and will offer the opportunity to earn up to 25.5 continuing nursing education contact hours along with diverse educational sessions, provocative interactive panels, information-rich poster presentations, and a variety of social and networking events. For more information, visit http://www.apna.org/AnnualConference.
The American Psychiatric Nurses Association is a national professional membership organization committed to the specialty practice of psychiatric-mental health nursing and wellness promotion, prevention of mental health problems and the care and treatment of persons with psychiatric disorders. APNA's membership is inclusive of all psychiatric mental health registered nurses including associate degree, baccalaureate, advanced practice (comprised of clinical nurse specialists and psychiatric nurse practitioners), and nurse scientists and academicians (PhD). APNA serves as a resource for psychiatric mental health nurses to engage in networking, education, and the dissemination of research.