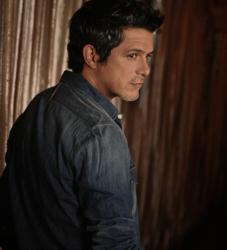 Miami, FL (PRWEB) February 01, 2013
On February 1st at 6pm EST, Multi-Grammy award-winning Latino artist Alejandro Sanz will stream live through MeetON.com. This exclusive 2 song live streaming performance is only available to fans within the United States.
Fans can reserve their free "front row seat" for the LIVE stream by visiting MeetON.com.
What: Exclusive live streaming performance by Alejandro Sanz
When: Friday, February 1st 2013 at 6pm EST
Where: MeetON.com
About Alejandro Sanz
Alejandro Sanz is one of the major international Latin artists globally renowned. Writer and composer of all his songs, Sanz has sold more than 22 million records being the only Spanish act which holds 19 Grammy awards (16 Latin and 3 American accolades). Alejandro has released 15 albums throughout his career- 9 studio albums- all of them are certified Platinum in Spain, USA and Latin America. Sanz is also one the more supported Latin artists in social networks with more than 8 million fans in Twitter in addition of his over 2 million Facebook followers. Alejandro has along all these years collaborated with names such as Shakira, Alicia Keys, The Corrs, Calle 13´s René, Joaquín Sabina, Dani Martin, Ivete Sangalo or the legendary Tony Bennett to name a few.
In 2011 Sanz was honored by the Spanish Ministry of Culture with the Fine Arts Merit Distinction, in addition he received from The White House the Hispanic Heritage Foundation´s Premio Visión in recognition to his altruistic labor and the ASCAP award (American Society of Composers Authors and Publishers) for his decisive contribution to Latin Music.
Sanz is especially committed to social causes and actively supports organizations such as Doctors without Borders, Save The Children or Greenpeace among others. He personally promoted Doctors without Borders´ album "Positive Generation" the same year, with the aim to fight AIDS among children in Zimbabwe.
###