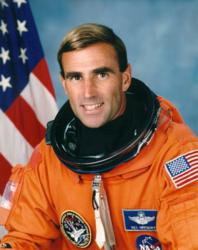 We are honored to have Astronaut 'Borneo' Bill Gregory join our ranks of safety training experts at Aviation Performance Solutions.
Mesa, AZ (PRWEB) June 27, 2013
Aviation Performance Solutions LLC (APS), an international provider of specialized Upset Prevention and Recovery Training (UPRT), is pleased to announce William 'Bill' G. Gregory has joined their team as a UPRT instructor and advanced instructor pilot at the APS headquarters in Arizona.
Bill Gregory, callsign 'Borneo', has nearly 40 years of aviation experience. Initially instructing in sailplanes at the United States Air Force Academy (USAF) in the 1970's, Bill attended pilot training at Williams Air Force Base (AFB), currently the site of Arizona's Phoenix-Mesa Gateway Airport (KIWA) and home of APS headquarters, went on to become a fighter and instructor pilot in the F-111D/F, and then attended USAF Test Pilot School. While a test pilot, he flew over 40 different types of aircraft including multi-engine business jets and large transport category airplanes such as the heavy C-5 Galaxy, with most of his time being in all models of the F-15, A-7, and F-4 aircraft. Following his tour at Edwards AFB in California, Gregory was selected by NASA as an Astronaut Pilot, culminating with his flight as pilot of mission STS-67 on the Space Shuttle Endeavour, setting a new Endurance Record for the shuttle of 16 days, 15 hours, 8 minutes and 46 seconds. His unique experience and background further enhances the diversity of experts at APS to support our corporate mandate to advance global air safety in general and commercial aviation industry. In addition to his instructor flying duties at APS as a UPRT, spin, formation and aerobatic instructor, Borneo supports business development.
"Not only is Astronaut 'Borneo' Bill Gregory a powerful addition to our team, he's a down-to-earth nice guy that genuinely enjoys assisting pilots of all experience levels and backgrounds achieve more depth to their life-saving aviation skills and knowledge through our APS programs," said Paul BJ Ransbury, the President of Aviation Performance Solutions, "We are honored to have Borneo join our ranks of safety training experts at APS."
Effectively delivered upset recovery training mitigates the Loss of Control In-flight (LOC-I) threat to commercial air safety through pilot education and practical skill development. LOC-I is defined as flight that occurs outside of the normal flight envelope with an inability of the pilot to control the aircraft.
ABOUT AVIATION PERFORMANCE SOLUTIONS (APS)
Aviation Performance Solutions with headquarters located at the Phoenix-Mesa Gateway Airport in Mesa, Arizona, has trained thousands of pilots in fully comprehensive upset recovery skill development, more than any other training organization. For two decades, with additional training centers in Dallas (Texas USA) and The Netherlands (Europe), APS has been committed to giving professional pilots and private pilots of all skill levels the highest quality upset prevention and recovery training available. APS offers comprehensive loss of control in-flight solutions via industry-leading web-based, on-aircraft, and full-flight simulator upset training programs. APS is the only Part 141 Flight School currently certified in the delivery of complete upset recovery, stall / spin and instrument recovery training courses worldwide. APS upset recovery training courses are all in compliance with the Airplane Upset Recovery Training Aid – Revision 2 and the recently released FAA Aviation Circular 120-109 on Stall and Stick Pusher Training. http://www.apstraining.com