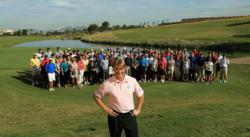 The proceeds from Golf Challenge benefit the Els for Autism Foundation and the funding of a state-of-the-art Center of Excellence that will combine the vital components of education, medical and professional services and transition to adulthood.
PALM BEACH GARDENS, FL (PRWEB) March 05, 2013
World of Golf Hall of Famer and four-time Major Champion, Ernie Els announced today from World Golf Championships-Cadillac Championship, Miami, FL, that registration is now open for the third annual Els for Autism Golf Challenge; the largest international charity-driven amateur golf tournament in history.
In 2013, the Golf Challenge - an international season long event series, will be comprised of 20+ events at a selection of North America's finest golf courses. Host venues for 2013 include PGA TOUR stops; Harbour Town Golf Links, SC; TPC Boston, MA; and Conway Farms Golf Club, IL. Other prestigious host venues include a fabulous selection of courses from the Trump Golf portfolio; and major hosts including Hazeltine National Golf Club, MN; and Baltusrol Golf Club, NJ. The 2013 series will fittingly kick-off with its first event on April 2nd, World Autism Awareness Day, at the highly acclaimed Floridian in Stuart, FL.
Since its inaugural 2011 series, the Els for Autism Golf Challenge has raised over $4 million for autism thanks to 3,300 rounds of golf and over 13,000 donors pledging funds. The series has also helped raise awareness of a disorder that that now affects a staggering, 1 in 88 children and 1 in 54 boys.
In this event series, a team's fundraising ability is valued as much as their performance on the golf course. Teams will compete in a combined low-net event for a selection of first class Regional prizes and all teams that fundraise $13,000 or more will join Ernie Els and his friends from the PGA TOUR at the series Finale in Las Vegas in October, where major prizes will be up for grabs including trips to Africa, South America and England courtesy of Mantis and South African Airways.
Each team will register online at http://www.e4aGolf.com, be assigned their own team page, and will be encouraged to choose an "Honorary Captain," a child on the autism spectrum who they play and fundraise in honor of. Teams will be able to e-mail their page to friends, family and colleagues, who will be able to donate online or by check. One team raising $2,500 or more in donations will be selected to receive a 7-day ultimate IRISH LINKS golf tour to Ireland in recognition of their fundraising efforts.
Non-golfers and those unable to play in a Super Regional event are invited to participate in the Golf Challenge and the fundraising drive by joining 'The Gallery Club'. Members can compete in teams of one or two to raise funds and awareness for Els for Autism and earn the chance to come to Las Vegas and participate in the Finale.
The phenomenal success of the Golf Challenge since 2011 has been in no small part due to its dedicated family of sponsors; Presenting Sponsor SAP; and Organizing Sponsors, Wine Spectator, Callaway Golf and RBC. This year, Els for Autism is excited and proud to announce the addition of two NEW Organizing Sponsors; the Trump Organization and Breitling USA. We also welcome The Boeing Company into the family of companies helping to support Ernie's fight against autism. With the generous support of these highly respected global brands the Golf Challenge promises to continue in its promise of funding development of the Center of Excellence, a state-of-the-art autism center and hub of worldwide operations for Els for Autism.
Ernie Els, whose 10-year old son Ben is severely touched by autism, and who set up the Els for Autism Foundation in 2009 with his wife Liezl, said:
"This year is a big year for the Foundation as we prepare to start construction on the Center of Excellence. We are so grateful for the support we have already received but this year we really need everyone to join us to make this happen, so please, come out and support this great cause and help us make a difference to the lives of thousands of families affected by autism. To help us in our mission this year we are honored to welcome new sponsors; The Trump Organization and Breitling USA, who join an exceptional family of Organizing Sponsors led by Presenting Sponsor SAP; who have been with us from the beginning and have been instrumental in the growth and success of the Challenge so far."
Els also announced his plan to get his fellow professionals to help him shine a light on autism this April during Autism Awareness month: "In April this year I'll be asking my friends on the PGA TOUR to join me in helping raise awareness about the benefits of early detection and show support to the autism community by wearing an Els for Autism blue and white puzzle piece pin at tournaments during April. Pins are also available via our website for members of the public who wish to show their support."
The proceeds from Golf Challenge benefit the Els for Autism Foundation and the funding of a state-of-the-art Center of Excellence that will combine the vital components of education, medical and professional services and transition to adulthood. The Center will also be a hub for a global digital learning program that will make therapeutic best practices available to children and families touched by autism in the U.S. and internationally.
Due to break ground this year, the first phase of the Center's development, will focus on an academic village offering a powerful combination of traditional educational resources, state-of-the-art technology and specially designed spaces that inspire creativity and individuality for children on the autism spectrum. Committed to a global mission, the Center also includes facilities for international visiting scholars and researchers who will contribute to the global autism community's offerings of best practice in education and therapy.
The Challenge's highly valued Contributing Sponsors include Mantis, IRISH LINKS, Floridian, South African, TPC, GOLF Magazine, The Peabody Hotel Orlando, SeaWorld Parks & Entertainment and Preferred Golf.
For more information about the Golf Challenge, the full events schedule and to register visit: http://www.e4aGolf.com
To find out how to support Autism in April and to secure the Autism Awareness pin that Ernie wearing at PGA TOUR tournaments during the month of April, visit: http://www.elsforautism.com/april

About The Els for Autism Foundation
The Foundation was established in 2009 by Liezl and Ernie Els shortly after their son Ben was diagnosed with autism. The Foundation has since embarked on a catalytic project; the establishment of a state-of-the-art Center of Excellence with a local, national and global reach. Els for Autism is a US 501(c)(3) public charity (EIN #26-3520396).

Photography:
Can be downloaded for editorial use at: http://www.elsforautism.phanfare.com/5948584
Donations

To donate by check: make out checks to Els for Autism and address to: Els for Autism, 3900 Military Trail, Suite 200, Jupiter, FL 33458
To donate online visit: http://www.elsforautism.com
To donate by cell phone*: text e4a to 20222 to donate $5
(Donations are collected for the benefit of the Els for Autism Foundation by the Mobile Giving Foundation and subject to the terms found at http://www.hmgf.org/t. Message & Data Rates May Apply.)