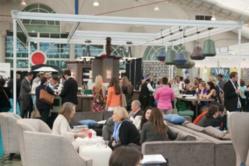 In its inaugural year, BDwest was a hit and is on the forefront of changing the paradigm for successful trade shows.
Cincinnati, OH (PRWEB) April 30, 2013
The inaugural BDwest took place at the San Diego Convention Center April 4-5, 2013 and according to the attendees and exhibitors who participated in Hospitality Media Group's (HMG) newest trade fair, it was a resounding success.
More than 1,000 industry professionals participated in the industry's newest trade fair and they experienced more than traditional booths and aisles from BDwest's nearly 150 exhibitors and sponsors, according to show officials. Much of the buzz came from the BDwest Designed Spaces, which incorporated products from exhibitors and sponsors and featured themes ranging from a working spa, where attendees could have private massages or manicures—to a mid-century space where even the food harkened back to a simpler time.
"We are thrilled with the success of our new trade fair BDwest and with the positive feedback we have received from our customers, speakers and attendees," said Michelle Finn, president of HMG.
A collaborative vibe electrified the exhibit hall crowds as BDwest demonstrated innovative concepts such as BDquest, a creative design challenge that occurred on the trade fair floor—to the ISHP/BD Owners' Grill panel and Hospitality I.Q., a jeopardy-like game.
"We thoroughly enjoyed the space and all the fabulous comments we received during the show. BDwest gave us a platform to showcase our design and branding talent in a showroom format. We were even able to sit in the space we created and talk to clients about future projects. It was great fun working with the manufacturers who provided products and the BDwest team. Truly an exceptional experience," said Trisha Poole, president of Design Poole and NEWH president-elect.
"We thought the first BDwest show was a success. A manageable show size allowed you to spend quality time with customers and industry friends. We were happy to see faces from all over the country. The venue was light and refreshing and added to the show's classy appeal," said Stacy Garcia, CEO of Stacy Garcia Inc.
Energy in the trade fair hall was palpable, with the sun shining brightly into the venue and the gentle ocean breezes keeping the air fresh in the exhibition hall, industry professionals moved from the hall to the sunny decks of the BD Backyard, a perfect spot for private meetings or lunch. The venue proved to be the perfect west coast balance to HMG's sister show, BDNY.
Barbara Best –Santos, of Gensler, was effusive when talking about her experience at BDwest, "New York in the fall, San Diego in the spring…what else do you need?"
Enthusiasm and camaraderie continued into the evening as more than 300 attendees joined the NEWH Los Angeles founding chapter for the Hospitality Fashion Challenge: Design in a Box, presented 'Project Runway-style' with garments created and constructed solely comprised of exhibitor and sponsor products.
"You are on to something! What a wonderful first show! I loved the organization, the venue, the size and the Milan feel. This is definitely an event that will have a long life and we look forward to coming back next year," said Joyce Romanoff, president of Maya Romanoff Corporation.
Exhibitors raved about the BDwest VIP Preview event, which was revealed as yet another added value just prior to the BDwest Kickoff Party, which drew more than 450 people to a rooftop venue in the Gas Lamp District of San Diego and also celebrated the Boutique 18 winners.
"The scheduled buyers/owners VIP meetings yesterday were a HUGE success!! It added incredible value for Swarovski Lighting because of how it was planned and well thought out. BDwest has created amazing value for Swarovski Lighting," said Megan Hanley, national sales manager, Swarovski Lighting.
"What a fresh new venue for a hospitality show! Everything was thought out for best results, from the VIP pre-show meetings, to designers engaged in designing the restaurant spaces at the show—to the quality of attendees and of course, the sunlit trade fair floor and outdoor space where you could have meetings. As an inaugural exhibitor, we were very pleased and look forward to returning to San Diego next year!" said Nancy Jackson, president Architectural Systems, INC.
BDwest featured numerous education and conference sessions, which took place on or immediately adjacent to the trade fair floor providing attendees easy access to the sessions. Power Players: Women Leaders in Hospitality Panel Discussion featured some of hospitality's women thought leaders who discussed their secrets to success, as well as their outlooks of what's ahead for the industry and the challenges and opportunities of diversity in the workplace.
Another packed session was the ever-popular ISHP/BD Owners' Grill session, which delivered a lively discussion addressing the state of the hospitality industry, trends and growth opportunities from both the design and the owners' perspectives.
"In its inaugural year, BDwest was a hit and is on the forefront of changing the paradigm for successful trade shows. By simplifying and modernizing the event structure, it was interactive, educational and engaging for both exhibitors and attendees," said Crystal Boone, RH Contract.
BDwest is produced by HMG, sponsored by Boutique Design magazine and in association with NEWH, AH&LA/WIL, BLLA and ISHP. Information on the 2014 BDwest will be available on the BDwest website, boutiquedesignwest.com.
ABOUT HOSPITALITY MEDIA GROUP (HMG)
HMG is a privately held media company serving the global hospitality industry and specializing in trade fairs, conferences and event management and development.
Events included in the HMG portfolio are: BDwest; BDNY; Boutique Design Forums; Boutique 18 awards and event; show management of IHM+RS, including the Gold Key Award and event.