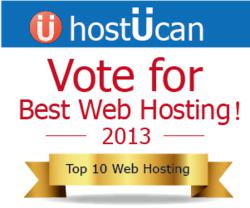 2013 Best Web Hosting Voting Program
San Francisco, CA (PRWEB) December 07, 2012
HostUCan.com, an industry leading web hosting review and search site, today updated the status of its "2013 Best Web Hosting" voting program, in which InmotionHosting is at the number one spot for the second straight week.
The voting program primary has people to vote for the best web host of 2013 and final award will be granted based on the overall customer reviews of each web host. The program started on 15th, Nov and will be ended in January 2013.
So far, over 800 reviews have been submitted, InmotionHosting, WebHostingHub, and Bluehost are in the top 3 spots.
HostUCan.com also announced the winner for each hosting category, such as InMotionHosting leads both Best Shared & Best VPS hosting, Linode leads for Best Cloud Hosting and Hostgator leads for Best Dedicated Server.
Every web host can participate in the program also, they can search whether their companies are in the list or not. If not, web hosts could submit their profiles via this link and HostUCan editors will approve it as soon as possible.
HostUcan also shares some experience on how to get their customers to participate in this voting program, such as:

Send an email
Post the news of this program in a social account like Twitter, Facebook or Google+
And place HostUCan voting program logo on their web sites.
People could check the result at the 2013 Award page hostucan.com/best-web-hosting-2013 or they could get an update by following HostUcan at Twitter, Facebook or Google+.