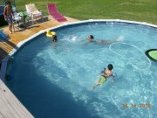 We are definitely seeing an upward trend in the number of above ground swimming pools being purchased.
Atlanta, Georgia (PRWEB) May 01, 2013
As spring comes to a close and the dog days of summer quickly approach, the number of above-ground swimming pools being purchased and installed are on the rise. According to a recent trend analysis, the number of above-ground pools on order has grown by more than 6%. This increase can be attributed to a variety of factors including cost and convenience.
Last year's average selling price of an above-ground pool was about half that of an in-ground pool installation. According to a recently published NewsCore report on foxnews.com, above-ground pools are generally less expensive than in-ground pools. They require less installation, excavation, supply and labor costs. In-ground pools may be taxed as property improvements while above-ground pools may not.
This trend towards above-ground pools can be seen in the number of orders and installations as well as the timing of consumer purchases. According to Sean Warren, General Manager of Blue World Pools, makers of above-ground swimming pools, "We are definitely seeing an upward trend in the number of above ground swimming pools being purchased. Also, an important metric to note is how much sooner we are seeing orders. Traditionally we don't get busy until May but started seeing orders come in as early as February."
Unlike in-ground pools which are generally installed towards the end of summer, above ground swimming pools can be installed much earlier and only take a few days to install. This provides a much better opportunity to identify sales trends for the industry and gain insight into how discretionary spending is allocated for the summer months.
"We've seen steady growth in this space for years," says Blue World Pools General Manager, Sean Warren. "I think people are looking for more affordable options than spending tens of thousands of dollars on an in-ground pool."
Based on the sales analysis, it was determined that many new consumers are purchasing pools. Although many areas are warm all year, many more purchases are coming from seasonal areas like the East Coast. This suggests a positive trend in summer-related spending.
About Blue World Pools
Blue World Pools is one of the most experienced above ground swimming pool dealers in the United States with hundreds of years combined management experience on over 35,000 swimming pool installations. Blue World Pools is a one-stop-shop for quality swimming pools: sales, financing, installation, and service. Blue World Pools has pools from $399 to over $10,000.