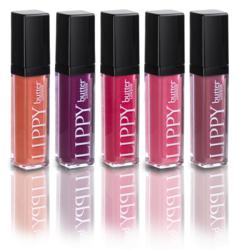 (PRWEB) January 30, 2013
butter LONDON Canada announced the Spring 2013 LIPPY Liquid Lipstick collection, a supercharged take on the statement lip.
Drawing inspiration from the fruity shades and lush pops of colour seen on the catwalks, LIPPY are anything but your typical lipstick. Striking tones of fluoro-coral, watermelon, and poppy pink, cool mauve and deep berry increase in pigment the more you apply. Each shade is an eye-catching accessory in itself.
Shades in the LIPPY Liquid Lipstick collection include:
Jaffa; Opaque, bright orange-coral liquid lipstick.
Wine Gums; Opaque plum liquid lipstick.
MacBeth; Opaque, pinky coral liquid lipstick.
Bampot; Opaque, bright flamingo pink lipstick.
Dahling; Opaque, dusky pink liquid lipstick.
The butter LONDON girl is a suitcase full of contradictions – pairing leather and lace, sporting ripped jeans but carrying a Chanel bag - she's original and irreverent; not afraid to buck the system – at least where fashion is concerned! Though she's a bit naughty and cheeky, she is equally independent, in-the-know, and savvy. She believes in colour and couture, and is not afraid to take a fashion risk – be it a bright nail, or a full-on leopard jumpsuit.
butter LONDON Canada is distributed by Integral Sense Brands. Integral Sense Brands was born out of consciousness to offer only the finest premium, certified organic, non-toxic, personal care products available. A distributor of brands such as butter LONDON, John Masters Organics, Antipodes Nature, Adara, and SAMA, their beauty categories available include: haircare, skincare, body-care, lacquers, cosmetics, and makeup.