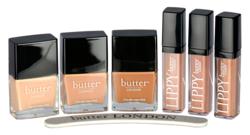 (PRWEB) February 21, 2013
The Starkers Collection by butter LONDON Canada includes three luscious lacquers and three luxe LIPPY, all in a sophisticated nude palette perfect for Spring.
Lacquers in the limited edition collection include light crème coloured Shandy, soft beige Crumpet, and Tea & Toast, a warm tan. The subtle palette of the collection create a look that's soft, sensual, and romantic.
Three LIPPY shades to prep your pout include Tea with the Queen, a best-selling cool nude, Hen party, a neutral, iridescent gloss, and The Old Bill, a beautiful bronze made to ramp up your Starkers look.
The Starkers Collection will be available for a limited time and will be carried in stores and online at butterlondon.ca.
The butter LONDON girl is a suitcase full of contradictions – pairing leather and lace, sporting ripped jeans but carrying a Chanel bag - she's original and irreverent; not afraid to buck the system – at least where fashion is concerned! Though she's a bit naughty and cheeky, she is equally independent, in-the-know, and savvy. She believes in colour and couture, and is not afraid to take a fashion risk – be it a bright nail, or a full-on leopard jumpsuit.
butter LONDON Canada is distributed by Integral Sense Brands. Integral Sense Brands was born out of consciousness to offer only the finest premium, certified organic, non-toxic, personal care products available. A distributor of brands such as butter LONDON, John Masters Organics, Antipodes Nature, Adara, and SAMA, their beauty categories available include: haircare, skincare, body-care, lacquers, cosmetics, and makeup.