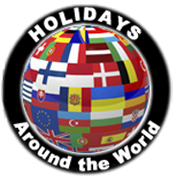 World holidays change 70% every year and we track over 220 countries plus all world religions in our 2013 International Planner -- which makes an indispensable tool for travelers.
Houston, TX (PRWEB) October 10, 2012
Trips outside the USA are difficult enough without wondering whether the date for your trip or meeting turns out to be on a country holiday or religious observance. Making connections and doing business internationally can be a real challenge.
To solve this challenge, AGlobalWorld of Houston, Tx has masterminded the International Planner, an indispensable tool for the busy business traveler: a comprehensive desk calendar and travel source geared to international travel. But it doesn't stop there. The International Planner goes the extra mile with other global features:

International Country Codes,
Area Codes in the US, Canada and the UK
World Air Distances
World Time Changes
World Time Zones
Metric and Conversion Tables
Standard and World Weights and Measures
Toll Free Numbers
Color Maps of the World and the USA
"The International Planner" -- which retails for $12.95 -- was created to take the guesswork out of planning international trips and events," explains Rebecca Noel, marketing manager. "When we first developed the concept, we made the common assumption that world holidays are on set dates, like our July 4th Independence Day. It turns out, over 70% of world holidays change every year and are celebrated according to a pattern like Thanksgiving, which is the 4th Thursday in November.
We track over 220 country holidays and all major religions. As the political situation changes in a country, holidays are the first order of business. When the Iraqi Parliament met for the first time, the first order of business was to change the existing Iraqi holidays because they were mandated by Hussein."
After extensive research, including contact with country embassies and consuls, AGlobalWorld developed a unique global database which is verified for accuracy by key individuals in each country. It has a true international flavor by being printed and offered in ten different languages. With its elegant kid-embossed black cover, the International Planner measures 7" x 10", weighs only 7 ounces and fits easily in an attaché or lady's handbag.
Companies can tailor the International Planner to make it their own. By customizing with company logos and inserting business-related information, companies can actually provide a useful tool for their customers, as well as having a daily presence in their customer's lives.
For further information, contact AGlobalWorld.com at 800-423-8828 or send email to rebecca.noel(at)aglobalworld(dot)com.