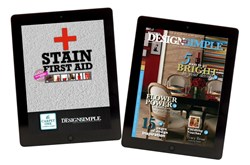 Carpet One Floor & Home's apps are free for consumers to download and they are available on both Apple and Android platforms.
Manchester, NH (PRWEB) September 18, 2013
Carpet One Floor & Home recently launched the newest of its digital tools for customers – the Stain First Aid app. This app helps customers keep their floors looking beautiful with cleaning instructions on over 50 of the most common household stains. Many of the stains even have a video tutorial to make it even easier to clean stains properly. The app is simple to use and is available for iPhone and iPad as well as Android phones and tablets. Carpet One Floor & Home recommends customers download the app before stains happen so they are prepared when stains occur.
The Beautiful Design Made Simple digital magazine, originally release in January 2013, is also now available for Android devices. "We are excited about the initial success of the iPad version of our magazine and the expansion to the Android market," said Terri Daniels, Vice President of Public Relations. "We want to make the tools accessible for as many customers as possible."
Both the Beautiful Design Made Simple magazine and the Stain First Aid app serve the purpose of helping Carpet One Floor & Home customers find inspiration as well as create and maintain beautiful homes. "It is important to us to go beyond selling our customers beautiful floors," said Daniels. "We want them to feel that we've helped them to create a beautiful home."
In addition to the mobile apps available, Carpet One Floor & Home aims to inspire customers with other assets as well. Their YouTube channel is filled with videos on topics ranging from product and buying information to expert advice from professional designers. And their Pinterest boards – organized by Color, Floor, Style and Room – make it easy to find inspiration.
To learn more about the Beautiful Design Made Simple magazine, Stain First Aid app and Carpet One Floor & Home's inspiration online, please visit their Facebook page at http://www.facebook.com/carpetone.
About Carpet One Floor & Home
Carpet One Floor & Home (http://www.CarpetOne.com) is North America's leading floor covering retailer, with more than 1,000 independently owned and operated locations in the United States, Canada, Australia, and New Zealand. Carpet One Floor & Home stores are known for a broad selection of carpet, wood, laminate, ceramic, vinyl, and area rugs, including exclusive brands like Bigelow and Lees. They offer a unique customer experience with the exclusive SelectAFloor merchandising system that simplifies the shopping experience and The Beautiful GuaranteeTM, which guarantees that the customer will be 100% happy with their floor. Carpet One Floor & Home is also the home of the exclusive Healthier Living Installation system.