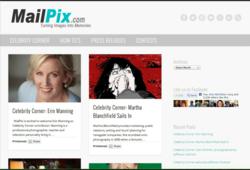 The goal of our blog is to inspire everyday consumers to enjoy photography every day. - Fred H. Lerner, president and CEO, MailPix
Huntington Beach, CA (PRWEB) February 26, 2013
MailPix.com, the new photo-printing site, is now featuring celebrity photographers on the MailPix blog. The "Celebrity Corner" section features the work of Craig Newmark, the founder of Craigslist; Jefferson Graham, technology writer for USA Today; Erin Manning, TV personality and professional photographer; and Martha Blanchfield, professional photographer.
"We're thrilled MailPix will be able to feature the works of these notable photographers on our blog," says Fred H. Lerner, president and CEO, MailPix. "The goal of our blog is to inspire everyday consumers to enjoy photography every day. Adding these photographers' work is another source of inspiration."
The MailPix blog is at http://www.mailpixblog.com.