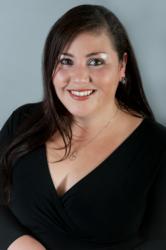 I'm excited at this opportunity to publicy thank MIND Research Institute for changing students' futures, including mine.
Irvine, Calif. (PRWEB) April 29, 2013
Orange County resident and non-profit fundraiser Maria Cervantes is one of 12 individuals in the Latin community to be recognized by Cosmopolitan for Latinas for making outstanding strides in her field. Cervantes is the Diversity and Community Relations Officer at the Irvine-based education non-profit MIND Research Institute.
"We're honored to see Maria recognized for her significant work on behalf of children's education," said Ted Smith, MIND Research CEO. "Not only has she made a difference through her work at MIND Research, but her enthusiasm, creativity and persistence provide outstanding examples for other young people in the community."
Cervantes has raised more than $3.5 million for MIND Research to help low-income elementary school students and English language learners excel in math and prepare for high-tech, high-paying jobs in science, technology, engineering and math (STEM) fields.
She started at MIND Research more than 11 years ago as a receptionist, working her way up to become a fundraiser and organizer of MIND's Diversity Council. While working at the non-profit, she also earned her bachelor's degree – a dream she had set aside previously, because her family didn't believe a young Latina needed to go to college.
"I'm honored to have been selected by the editors of Cosmopolitan for Latinas to stand alongside such Latina luminaries," said Cervantes. "Even more, I'm excited at this opportunity to publicly thank MIND Research Institute for changing students' futures, including mine, and to bring attention to the important work our non-profit does to enable others to succeed in education and become tomorrow's leaders – and I am the living proof."
Cervantes and the rest of the honorees will be featured in the summer 2013 issue of Cosmopolitan for Latinas, on newsstands April 30. Additionally, she will be recognized at a May 23 luncheon hosted by the magazine in New York.
"For our first-ever Fun Fearless Latina Awards, we are proud to honor 11 influential Latina women and one man who are at the forefront of their industries including entrepreneurship, technology, science and the arts," said Michelle Herrera Mulligan, editor-in-chief of Cosmopolitan for Latinas. "These individuals are not only reinventing their industries, but their achievements are also opening the door for the next generation of Latina men and women."
In addition to Cervantes, the full list of honorees selected by the magazine's editors are: Michelle Rodriguez, actress starring in such blockbusters as The Fast and the Furious; Natalie Morales, co-anchor of the Today show; La La Anthony, creator of Motives for La La; Loren Ridinger, SVP of Market America and Shop.com and creator of Motives Cosmetics; Marlen Esparaza, Olympic Boxer and Medalist; Leticia Márquez-Magaña, molecular geneticist at San Francisco State; Erika Andiola, community organizer and activist; Alexandra Wilkis Wilson, co-founder Gilt.com; and Magaly Chocano, CEO and Founder of Sweb Development. Shirley Diaz, founder of DreamGirls International Outreach and Mentoring Program is the reader winner and will be named an "Honorary COVERGIRL" at the May luncheon. Finally, the Fun Fearless Latino award goes to Al Madrigal, comedian and correspondent on The Daily Show with Jon Stewart.
Learn more about the honorees and their stories when Cosmopolitan for Latinas hits newsstands on April 30 or go online to http://www.cosmopolitan.com/cosmo-latina/fun-fearless-latina-awards-2013#slide-1.
MIND Research Institute
MIND Research Institute is a neuroscience and education research-based, non-profit corporation. MIND applies its distinctive visual approach to illustrating math concepts and building problem-solving skills as the basis for innovative, research-proven math education programs for elementary and secondary schools. MIND's programs currently reach over 500,000 students and 21,000 teachers in more than 1,780 schools in 30 states. More: http://www.mindresearch.net.