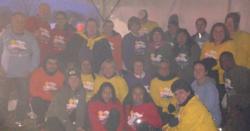 Woodbridge, VA (PRWEB) April 10, 2013
On Sunday, April 7, 2013, Belvoir Federal Credit Union took part in the 41st Annual Cherry Blossom Walk/Run in Washington, DC. With over 15,000 runners in attendance, 48 Belvoir Federal employees volunteered to assist with the race and 44 employees, employees spouse, board members, and members who ran/walked in the race.
Belvoir Federal Credit Union prides itself in taking an active role in the community and was honored to contribute to the races title sponsor, the Children's Miracle Network (CMN). Among other credit unions, Belvoir Federal contributed to this year's $483,000 in total donations, which brings the overall amount of funds raised to more than $6 million since the inception of CMN title sponsorship in 2002.
The Children's Miracle Network. Hospital was founded in 1983 by Marie Osmond and her family as well as John Schneider, Mick Shannon, and Joe Lake. Since that time, the network has expanded to include 170 hospitals where 62 children are treated every minute, that's one child every second. For more information and/or to see how you can help create a miracle, visit http://www.childrensmiraclenetworkhospitals.org.
About Belvoir Federal Credit Union
Belvoir Federal is a member-owned, full-service financial institution that provides the foundation for the financial success of our Members. Belvoir Federal, a not-for-profit organization, has served the Fort Belvoir and U.S. Armed Forces community since 1946. For more information about Belvoir Federal, please visit http://www.BelvoirCreditUnion.org.
###