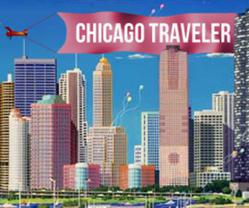 Chicago, IL (PRWEB) April 10, 2013
Chicago is one of the top party destinations in the country, and the Chicago nightlife scene consists of the hottest clubs, bars, famous music venues and comedy and even Chicago restaurants that stay open well into the late hours. Some of the biggest events in Chicago are coming up over the next few months, including big-name concerts, festivals, summer vacation and more. After travelers have spent the day taking in Chicago attractions, pigging out at Taste of Chicago, enjoying the tunes at music festivals like Lollapalooza or the Blues Fest or having fun with the whole family at the Air and Water Show, a baseball or football game, or and of the other upcoming festivals, get ready to travel in style to one of the many Chicago nightlife hotspots. New York may be dubbed the City That Never Sleeps, but the Windy City is ready to party and gives New York a run for their money for that title. Chicagotraveler.com has compiled the top ways to get around on a Chicago night out, and the places every travel will want to end up at.
Chicago Transportation
The first step in planning a night out on the town in Chicago is arranging for a reliable and fabulous form of transportation that will not only get the group from point A to point B, but will do so in style. Reserving a Chicago limo service for a night out, for a ride from the airport or going out to dinner is one of the smartest ways to travel, and doesn't usually cost much more than a cab does. And the extra luxury and comfort is well worth a few extra dollars. With M & M Limousine Service, guests will have their pick of luxury sedans, SUVs, stretch limos and can even accommodate large groups 57 people with awesome part buses. Book for 5 hours or more for special discounted rates.
Chase Limousine is another great Chicago limo company, which runs 24/7. Those really wanting to show off can arrange for a hummer limousine from Chase to pick the group up and cruise down Magnificent Mile. Chicago Limos Inn satisfies their customers by offering limos, sedans and even party buses for those really dedicated to having a wild night out in the Windy City. This Chicago limo service is friendly to the wallet as well, as guests can save a few dollars when they book their service online with these Chicago deals.
Where to Go Out in Chicago
Next up in the planning process is deciding upon a Chicago destination, which may be difficult as there are so many fantastic things to do in Chicago. Lincoln Park is one of the best places to spend a night out on the town in Chicago. There is something for everyone in this youthful area of the Windy City, as lively bars and nightclubs line the streets of Lincoln Park and are interspersed with some delicious restaurants as well. Head to Delilah's for the classic Chicago dive bar experience. This Chicago staple has a vast selection of beers and whiskeys to choose from at very affordable prices. Neo in Lincoln Park is the perfect spot to people watch, get in touch with your punk rock side or dance the night away to some roaring music any night of the week. Those who enjoy a good laugh should definitely check out The Second City before leaving this neighborhood, it's one of the most famous comedy clubs in the country!
Looking for where to party after a Chicago Cubs game? Check out the bars near Wrigley Field. Smart Bar is one of the top Chicago music venues, and the amazing sound system will be playing irresistible electronic and techno tunes all night long. Get up and dance with one of the scantily-clad college co-eds at this fun Chicago nightclub. Headquarters Beercade is an alternative to the traditional Lakeview nightclub experience, as it combines free retro arcade games with plenty of refreshing beer. There are tons of great dive bars, Irish Pubs and music venues nearby for a few drinks with fellow Cubs fans. Definitely check out all of the upcoming concerts in Chicago every trip - some of the biggest names in music play in this city all year long.
Check out some of the Jazz bars around town for a taste of those famous Chicago Blues. Buddy Guy's Legends, Close Up 2 and Blue Chicago are a few local favorites. Another thing Chicago is famous for are the local brews, and travelers can't go wrong spending an evening in a local bar sampling a few, or an afternoon at one of the best breweries in Chicago, like Goose Island, Half Acre Beer Company and Revolution Brewing.
Late Night Dining in Chicago
Hungry after partying the night away in Chi-town? Thankfully, there are some great late night Chicago restaurants to chow down at. Three Aces in University Village serves up tasty Chicago eats, including killer burgers, bolognese fries and duck fat chips. Nacional 27 is part late night Chicago restaurant, part nightclub in its own right, and is located in the North Side. Finish the night off by snacking on some tapas, ceviche, or other Latin inspired cuisine. It's hard to imagine a Chicago night out that isn't concluded by enjoying a slice of pizza, and luckily enough Pequod's Pizza stays open into the wee hours to satisfy those late night munchies. Sample a slice of famous deep dish pizza at this well-known Chicago restaurant.
About ChicagoTraveler.com:
Chicago is one of the top vacation destinations in America famous for their annual events, popular foods, architecture and top sports teams. ChicagoTraveler.com guides travelers to all the best things to do, top places to eat and deals on the best places in Chicago to stay. This article was written by Lizz Riggs, editor of ChicagoTraveler.com.