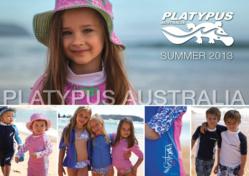 So with all the boxes ticked - for UV protection, fashion and comfort - there's nothing left to do except enjoy the sun!
(PRWEB) February 04, 2013
Platypus Australia, one of the world's foremost providers of children's UV protective swimwear, has just launched their long awaited Summer 2013 range. The catalogue's new range of designs addresses the requirements for maximum sun protection and comfort, and also features the latest trends in children's fashion by combining colour blocking, pattern intermixing and a healthy dose of vintage inspiration.
Platypus Australia is highly regarded by sun-loving families around the world because of their long-time advocacy to minimize the health risks children face with prolonged sun exposure. Renowned for always providing products with the highest level of UV protection available with a UPF 50+ rating, Platypus Australia has gone a step further to ensure kids will actually love wearing their protective gear by releasing a fresh summer collection of beachwear.
Platypus Australia's 2013 Summer catalogue is marked by comfortable mix & match pieces full of vibrancy and style, "which the little ones really enjoy wearing, so they're keen to put - and keep - their swimsuits on, and that makes it so much easier for parents," says a Platypus Australia representative. "We provide protective children's swimwear without sacrificing on style, and this year's latest release is no exception."
The pages of Platypus Australia's 2013 Summer catalogue are full of vibrant photos showcasing some designs parents may find familiar. "This year's collection has hints of the 60's and 70's in the patterns, which lightens the pieces up with a bit of fun."
The girls' range is on trend with touches of colour and pattern blocking. The prints are vintage inspired, mixed with mini gingham and dot combinations. Popular colour combinations of pink and mint and purple with aqua are striking. The final effect is a blend of easily coordinated and fun pieces that young girls will naturally adore wearing.
The palette is somewhat cooler for the boys' new assortment with chunks of navy blue, accented by pale green and splashes of red. Although less intricate in design, several of the boys' pieces include patterns of the hibiscus flower, a well-known Hawaiian surfing image, as well as more linear patterns of zig zags and digital inspired prints such as sonic waves. The outcome is a more graphic range that little boys will take great pride in wearing.
Platypus Australia's fresh 2013 collection includes pieces to suit all ages and sizes of children. "We have swimwear for every age and size child, from babies to young teens. We ensure the entire family is covered." The fresh, new Summer 2013 catalogue of UV protective swimwear includes sunskirts, a wide variety of rashguards, sun jackets, adorable swimsuits, popular boardies, bike shorts, European boylegs, caps, bucket hats and much more.
Being able to provide sun-safe beachwear along with trendy designs puts Platypus Australia in the lead for children's UV protective swimwear. "Our fashionable and coordinated pieces makes certain that your child's beachwear will not only be in style, but of the best possible fit" remarks the Platypus Australia representative, "So with all the boxes ticked - for UV protection, fashion and comfort - there's nothing left to do except enjoy the sun!"
PLATYPUS AUSTRALIA IS SUN, SEA AND SAFE!
To find out more about Platypus Australia's new 2013 summer range, or for more information about their children's UV protective swimwear, visit: http://www.platypusaustralia.com/Default.aspx
About Platypus Australia
Since their beginnings in 1996, Platypus Australia's quality children's UV protective swimwear has spread to the UK, Europe, Asia and USA. They're export-ready garments are internationally acclaimed and in high demand since the effects of harsh ultraviolet radiation are now well known.
Platypus Australia's beachwear gives parents peace of mind knowing their children are safe, while having fun in the sun. For more information regarding their renowned product range, visit http://www.platypusaustralia.com