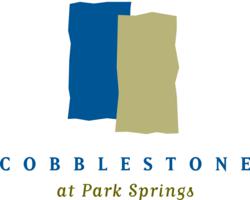 We know that for many seniors who are thinking of moving to Park Springs CCRC, having the continuum of care at Cobblestone factors in greatly in their decision-making process.
Atlanta, Georgia (PRWEB) January 31, 2013
Debra Morgan, Administrator of Cobblestone Health Center at Park Springs CCRC, is delighted to announce that Pebblebrook, Cobblestone's nursing home, has received a five-star rating on the Medicare website Nursing Home Compare.
"Of the 43 nursing homes within a 25-mile radius of Park Springs, Pebblebrook is only one of seven that enjoys this top rating," notes Morgan. "This distinction, which comes with a "Much Above Average" label, is based on three weighted components: survey inspections, staffing and quality measures. It is a remarkable achievement that is made possible by the dedication and professionalism of every member of our staff."
CMS-Medicare rates nursing homes throughout the U.S., and the ratings may change depending on specific calculations. Data for the ratings come from two sources: CMS's Health Inspection database, including the nursing home characteristics and health deficiencies used during the three most recent state inspections and recent complaint investigations; and a national database knows as the Minimum Data Set (MDS).
"Access to care at Pebblebrook is assured for any member who lives at Park Springs, our award-winning continuing care retirement community in Stone Mountain," according to Kevin Isakson, Director of Sales and Marketing for Isakson Living, owner and operator of Park Springs. "There are only a few openings at Pebblebrook each year for seniors who do not already live on the Park Springs campus. We know that for many seniors who are thinking of moving to Park Springs, having the continuum of care at Cobblestone factors in greatly in their decision-making process."
ABOUT PARK SPRINGS:
Park Springs (completed in 2007), owned and operated by Isakson Living and professionally managed by Life Care Services, LLC, is a 54-acre campus-style Continuing Care Retirement Community (CCRC) surrounded by Stone Mountain Park. Park Springs is a vibrant community of active adults 62 and above who live in spacious private homes and enjoy a club-inspired lifestyle. Park Springs includes 398 Independent Homes; a Health Center (Cobblestone) with 42 Skilled Nursing rooms (Pebblebrook), 14 Dementia suites (Julia's Suite) and 20 AL suites (The Bridges); Clubhouse with variety of dining options and common areas; and Fitness Center with lap pool, therapy pool and exercise room. Members live in a detached single-family home, cottage home or condominium-style villa. The community provides dining options in diverse settings and many social, educational and enrichment opportunities. Residential options offering a higher level of service and care are also available on campus. These include home health, assisted living suites, memory care or Medicare-certified skilled nursing and rehabilitation. As situations change, Members can move into the type of home or environment that best meets their needs.
http://www.parksprings.com | http://www.isaksonliving.com
500 Springhouse Circle, Stone Mountain, GA 30087 678-684-3300
About Cobblestone:
Cobblestone, located within Park Springs CCRC, provides assisted living, skilled nursing, short-term senior rehabilitation and secured memory care. Park Springs Members have assured access to all services, some of which may also available to those who live outside of Park Springs.
Cobblestone Services/Amenities Include:

Meticulous and inviting surroundings, including a gazebo-style interior courtyard, activity room and beautiful living room with terrace
Daily meals prepared to individual needs and preferences by the Cobblestone chef; meals which can be enjoyed in the Cobblestone dining room or in one's suite
A private dining room where families can celebrate special occasions
Beautiful walking trails, with access to neighboring Stone Mountain Park
Daily housekeeping and maintenance
A full schedule of engaging and productive activities, featuring seasonal celebrations, gardening, music and exercise
Health services, including 24-hour professional nursing care, medication monitoring and nutritional services
Physician on staff
Physical, Occupational and Speech therapists available
24-hour security
Transportation services
Laundry facility and services
On-campus bank, hair salon, general store, library and game room
Wellness center with fitness equipment, pool, classes and counseling services
Diverse clubs and interests, cultural events and excursions.