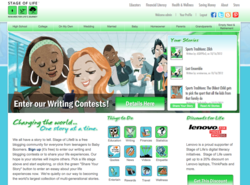 "Today's teens unabashedly text and Tweet, but Language Arts teachers don't have to be on the defensive in engaging these digital natives and getting them to write something longer than 140 characters." --Eric Thiegs, CEO of StageofLife.com
Dallastown, PA (PRWEB) February 28, 2013
The balancing act of teaching creatively to inspire students while also ensuring that lesson plans adhere to the state standards has Language Arts teachers and school districts looking to outside resources for help and ideas.
With a quarter of a million teenage visitors in 2012, StageofLife.com – a Language Arts educational resource dedicated to encouraging life-long readers and writers - mapped the site's free blogging features, digital literacy activities, blogging lesson plans, student mentor texts, and national writing contests to the Common Core State Standards for Language Arts in the writing, reading, and grammar categories.
Eric Thiegs, CEO of StageofLife.com, stated, "Today's teens unabashedly text and Tweet, but Language Arts teachers don't have to be on the defensive in engaging these digital natives and getting them to write something longer than 140 characters."
Thiegs went on to explain that there are powerful digital literacy tools, such as teen blogging websites and reputable online writing contests, that can be utilized inside and outside the 21st century classroom to keep students engaged in the writing process.
In addition to satisfying parts of the Language Arts Common Core requirements in 45 states and three US territories, Stage of Life is currently in the process of mapping its teen blogging resources to the independent Language Arts state standards for Texas, Georgia, Virginia, and Minnesota.
StageofLife.com's mission is to help students find and develop their passion for reading and writing by engaging them in storytelling and writing prompt activities dealing with real-life teen topics that hit home in their daily thoughts and lives. Writing prompts and teen blogging contests appearing on Stage of Life have dealt with topics such as gun control verses gun rights, the presidential election, body image, teen pregnancy prevention, media influence in society, teens' favorite books, Anthropocene, family sports traditions, poetry, the definition of love, and more.
The Common Core State Standard Language Arts mapping on StageofLife.com can be viewed at http://www.stageoflife.com/education/LanguageArtsCommonCoreStandards.aspx
# # #
StageofLife.com was founded in 2009 with a literacy mission to encourage life-long readers and writers through its blogging community designed for all generations, from teens to Baby Boomers.
With over a quarter of a million teen and teacher visitors each year, 5+ million uploaded words, and thousands of submitted essays, it is becoming the world's largest collection of multi-generational stories. The site features free educational resources ranging from writing contests, free blog resources, Language Arts lesson plans about blogging, goal setting worksheets, writing prompts, and more.
You can reach StageofLife.com by contacting Founder and CEO, Eric Thiegs, via email at contact(at)stageoflife(dot)com.