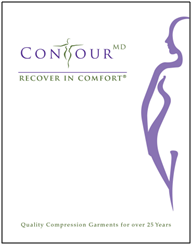 "There is nothing accidental about quality"
Lenexa, KS (PRWEB) January 17, 2013
The 2012-13 catalog showcases an expanded line of exciting new products to include a Brazilian Butt lift Garment, Dri Pads, and a full line of recovery products. View the catalog online by visiting http://www.contourmd.com.
Another key feature of the catalog is the expanded garment sizing chart which enables customers the ability to accurately determine the correct size when selecting their garment.
"We continue enhancing our selection of compression garments and employ a process of continuous improvement in providing exceptional customer service," said Rich Orr, President, ContourMD. "The new catalog is the latest development in that process. We work hard to provide our customers with the finest and most complete line of compression garment wear available; all of which are made 100% in the USA. "There is nothing accidental about quality," said Orr.
In an effort to increase their commitment to Cosmetic and Plastic Surgeons, Clinics, and Med Spas, ContourMD has also introduced an Affiliate Premier Partner Program. This program guarantees surgery patients unprecedented comfort during recovery and after surgery. ContourMD enables medical professionals to offer these products directly to their patients from their own website.
About ContourMD
ContourMD garment line is designed for all types of surgical procedures including tummy tucks, abdominoplasty, arm lifts, breast augmentations, breast lifts, breast reductions, facelifts, gynecomastia, liposuction, weight loss surgery, as well as during pregnancy and postpartum support garments. ContourMD garments fit every subtle contour of the body, for unprecedented comfort during recovery after surgery. Made in the USA, ContourMD is the number one choice for compression garments, maternity wear, mastectomy and other recovery products, earning the trademark slogan, Recover in Comfort™.
Media Contact
Customer Care Team
Email: customerservice(at)contourmd(dot)com
Phone: 800.683.3826
Web: http://www.contourmd.com